HONG KONG — North Korea fired two ballistic missiles off its east coast Wednesday and South Korea said hours later that it had carried out a successful test of a submarine-launched ballistic missile.
The rival launches intensified an arms race between the two countries amid stalled nuclear diplomacy with the United States and just two days after Pyongyang said it had tested a new cruise missile.
The first weapons activity by Kim Jong Un's regime in almost six months came as President Joe Biden's envoy for North Korea, Sung Kim, was in Tokyo for talks with Japan and South Korea on how to end the diplomatic standoff.
Wednesday's dueling tests will likely give fresh impetus to that effort — and add to the foreign policy headaches facing the White House.
Download the NBC News app for breaking news and politics
The underwater-launched ballistic missile test makes South Korea only the eighth country known to have developed such a weapon, joining its rival to the north, as well as the United States, Russia, China, Britain, France and India. It is the first country without nuclear weapons to have an SLBM.
South Korea's possession of the missile was first reported earlier this month but was not confirmed by the government, which rarely makes public declarations of weapons tests, until Wednesday.
President Moon Jae-in observed the test Wednesday afternoon, his office said. It added that the missile, launched from a 3,000-ton-class submarine, flew a planned distance and hit its target precisely.
Moon said improvements in the country's missile capabilities would serve as "a sure deterrence against North Korean provocation."
The powerful sister of North Korea's leader later hit back and threatened a "complete destruction" of relations.
In a statement released by state media, Kim Yo Jong criticized Moon's description of the North Korean missile tests as a provocation, and warned him not to continue with what she described as slander.
Hours earlier, North Korea launched two ballistic missiles from the Yangduk area of South Pyongan province, South Korea's Joint Chiefs of Staff said in a statement. The missiles flew about 500 miles into the sea off the east coast of the Korean Peninsula, it said.
The South Korean military said South Korean and U.S. intelligence agencies were conducting detailed analysis for additional information and that the South Korean military had strengthened surveillance in the area.
Japanese Prime Minister Yoshihide Suga confirmed that the North Korean weapons were believed to be ballistic missiles and called the launch "a threat to the peace and security of Japan and to the region."
"This is simply outrageous," he said, adding that the missiles had fallen outside Japan's exclusive economic zone but that the government would monitor the area "more closely than ever."
Both South Korea and Japan said they would be holding meetings of their national security councils.
The U.S. military's Indo-Pacific Command said it was aware of North Korea's missile launch and "consulting closely with our allies and partners."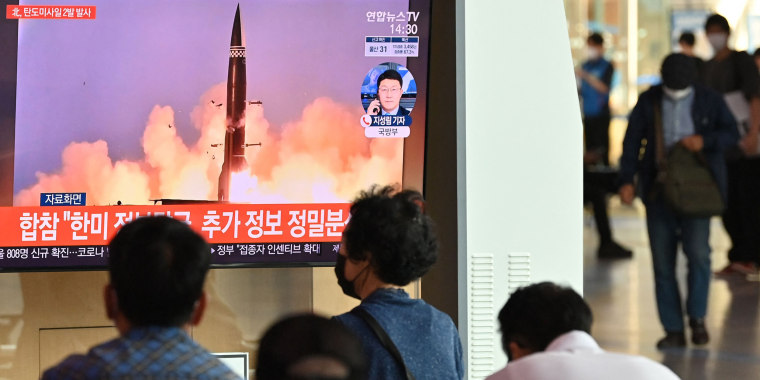 The launch "highlights the destabilizing impact" of North Korea's weapons program, it said in a statement, adding that it didn't pose an immediate threat to "U.S. personal or territory, or to our allies."
On Monday, North Korean state media said a new long-range cruise missile had been tested twice over the weekend. The missile was described as "a strategic weapon of great significance," suggesting that it could be North Korea's first cruise missile with nuclear capability. It is unknown whether North Korea has been able to develop nuclear warheads small enough to be mounted on a cruise missile.
Unlike cruise missiles, the testing of ballistic missiles is explicitly banned by United Nations Security Council resolutions on North Korea's weapons program.
Leif-Eric Easley, associate professor of international studies at Ewha Womans University in Seoul, South Korea, said North Korea's recent missile tests would dampen international hopes for dialogue.
"Despite its self-imposed pandemic lockdown, North Korea continues to prioritize military modernization," he said.
Before this month, North Korea's most recent weapons activity was in March, when it tested a new tactical short-range ballistic missile. It also launched a cruise missile hours after Biden was inaugurated in late January, in keeping with its practice of testing new U.S. leaders.
Talks on dismantling North Korea's weapons programs have been stalled since 2019, when discussions between then-President Donald Trump and Kim collapsed over the issue of U.S. sanctions. While the Biden administration has signaled openness to diplomacy, it has said there will be no sanctions relief until North Korea makes progress toward denuclearization. Pyongyang has thus far rejected Washington's overtures.
While nuclear envoys from the U.S. and its allies met Tuesday, North Korea was also on the agenda of Chinese Foreign Minister Wang Yi's meetings with South Korean officials, including Moon, in Seoul on Wednesday.
As North Korea's biggest trading partner, China is seen as having more influence over its government than the U.S. and its East Asian allies.
Easley said that launching the ballistic missiles while a senior Chinese official is in Seoul "makes Beijing appear unwilling or unable to restrain Pyongyang."
The test Wednesday "highlights China's responsibility to do more to safeguard stability" in the region, he added.