WASHINGTON — North Korea has fired another intercontinental ballistic missile, the Pentagon said Friday — a test that the regime said showed that U.S. cities are now within its target range.
The Department of Defense detected the ballistic missile launch and later confirmed it to be an ICBM by an initial assessment, U.S. officials said. It flew approximately 1,000 kilometers and landed in the Sea of Japan within Japan's exclusive economic zone, according to Pentagon spokesman Capt. Jeff Davis.
It was determined not to be a threat. But South Korea said it was more robust than the first ICBM launched by North Korea earlier this month.
The launch prompted the U.S. Chairman of the Joint Chiefs of Staff to call his South Korea counterpart to discuss "military response options," said the chairman's spokesman, Capt. Greg Hicks. The call "expressed the ironclad commitment to the U.S.-Republic of Korea alliance," Hicks said.
Davis confirmed that the U.S. and South Korea conducted a joint live fire exercise Saturday morning in response to North Korea's ICBM launch.
A South Korea military official said the projectile had been fired around 11:41 p.m. local time (10:41 a.m. ET) on Friday and at its highest altitude, traveled at around 3,700 kilometers — "meaning that the firing range has made progress since the last launch" of an ICBM.
"South Korean military has strengthened surveillance and deterrence against North Korea's additional provocations. We are totally prepared for all possible situations," the official added.
He said South Korean officials were working with the U.S. to get a more detailed analysis.
North Korea confirmed the ICBM test launch through its state news agency and said the test was a "stern warning" for the United States, according to Reuters.
The North Korean state news agency KCNA said the test was ordered by the country's leader, Kim Jong Un, and quoted him as saying "this will show that if the U.S. policymakers dare to mess with us then the imperialist Americans will have understood that they are not safe."
KCNA said the missile in the latest test was a Hwasong-14, the same type it said was involved in the first test. Kim was quoted by KCNA as saying "the mainland U.S. is within our target range has been clearly established."
The Union of Concerned Scientists, a science advocacy non-profit, estimated based on available information about the missile test's trajectory that it could "easily reach the U.S. West Coast and a number of major U.S. cities."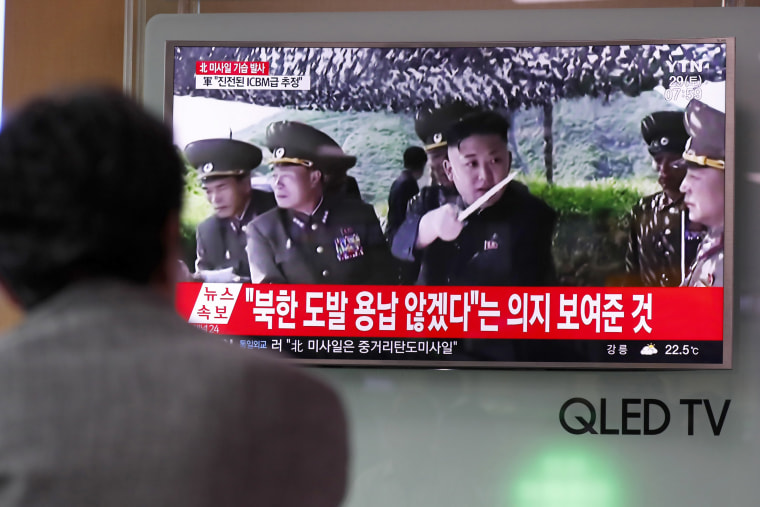 North Korea first tested an ICBM on July 4, which proved it had a range capable of reaching certain parts of the United States.
Related: North Korea Crisis: How Events Have Unfolded Under Trump
The latest ICBM flew for about 45 minutes, said main Japanese government spokesman Yoshihide Suga.
"We cannot accept these repeated provocations by North Korea and we made our protest to the North Koreans using the strongest words possible," Suga said.
North Korea is barred by the United Nations from having a nuclear arms program, but has brazenly defied that ban.
U.S. Secretary of State Rex Tillerson said in a statement Friday that the United States condemns the latest ICBM test, and he called Russia and China enablers of North Korea's weapons programs.
"As the principal economic enablers of North Korea's nuclear weapon and ballistic missile development program, China and Russia bear unique and special responsibility for this growing threat to regional and global stability," Tillerson said.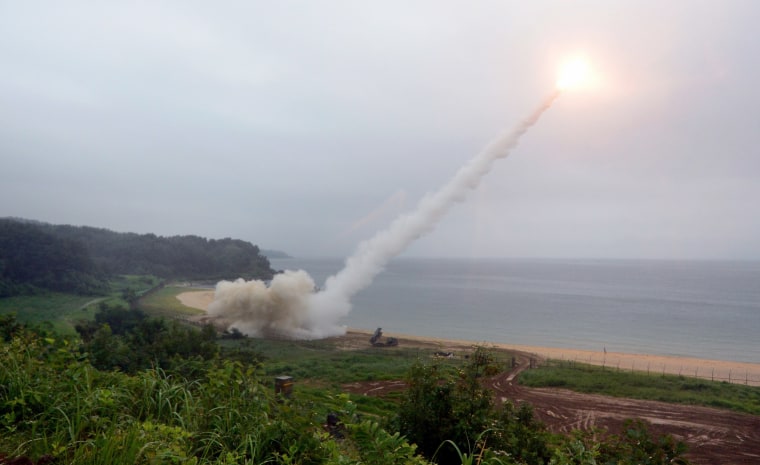 He said the United States "seeks the peaceful denuclearization of the Korean Peninsula" and an end to provocations by North Korea. "As we and others have made clear, we will never accept a nuclear-armed North Korea nor abandon our commitment to our allies and partners in the region," Tillerson said in the statement.
North Korea has carried out several ballistic missile tests just this year alone, escalating tensions with the United States since President Donald Trump's inauguration in January. It has conducted five nuclear tests since 2006.
"Our commitment to the defense of our allies, including the Republic of Korea and Japan, in the face of these threats, remains ironclad," Davis said in a statement Friday. "We remain prepared to defend ourselves and our allies from any attack or provocation."
Courtney Kube reported from Washington, Elizabeth Chuck from New York.