LONDON — Seventeen years after a landmark peace deal, Northern Ireland's government was close to collapse Friday amid a political crisis over a murder linked to the Provisional Irish Republican Army — a paramilitary group which some claim no longer exists.
Power-sharing between predominantly Catholic Irish nationalists and Protestant pro-British unionists has been paralyzed by the dispute, with a British minister describing the situation as "dysfunctional."
It follows the arrest of a senior figure in the nationalist Sinn Fein party over an August 12 murder in Belfast. Northern Ireland's police chief, George Hamilton, said some IRA members were involved in the killing.
Sinn Fein was once the IRA's political wing. Party president Gerry Adams, who has always denied membership of the IRA, refuted Hamilton's claim. He said the IRA had "gone and [is] not coming back".
Related: Anguish Haunts Northern Ireland's Retired Terrorists
A permanent end to paramilitary activity was one of the key conditions of a 1998 peace deal that eventually led to arch-rivals — including unionist Rev. Ian Paisley and nationalist Martin McGuinness — forming a shared government at Belfast's Stormont Castle.
The 1998 deal led to the IRA formally ending its armed campaign in 2005 and pledging to put weapons beyond use. That was seen as a key step in ending three decades of armed conflict, known as The Troubles, in which over 3,600 people were killed.
Hamilton said he believed that "some of the Provisional IRA structure from the 1990s remains broadly in place" but its purpose "has radically changed" and it was "not on a war footing," adding that there was no evidence the killing was sanctioned by the organization. The victim, Kevin McGuigan, was a senior IRA figure who had been involved in a long-running personal feud with Bobby Storey, the northern chairman of Sinn Fein and also a former IRA figure.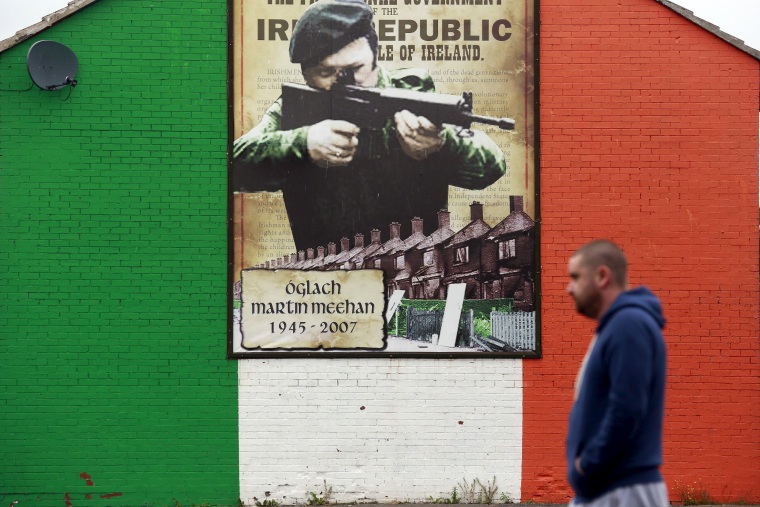 Unionists said Storey's arrest had undermined trust in the peace process, already weakened by a months-long budget dispute, and withdrew all but one of their ministers from the power-sharing government.
Peter Robinson, leader of the Democratic Unionist Party, said: "The continued existence of the IRA and the arrests that followed has pushed devolution to the brink. The fact that a leading member, or leading members, of Sinn Fein have been associated with a murder indicates to us very clearly that those are unacceptable circumstances and we cannot do business as usual."
It is the biggest crisis since the 1998 deal.
"I wish we weren't at this situation," Britain's minister for Northern Ireland Theresa Villiers told the BBC Friday. "The important thing now is to try and find a way to repair those working relationships, to deal with issues around paramilitaries," adding that the government in Belfast had become "dysfunctional."
Storey was one of three prominent Irish nationalists arrested over McGuigan's killing, and one of a total of 17 people arrested. He was released by police late Thursday without charge, UTV reported.