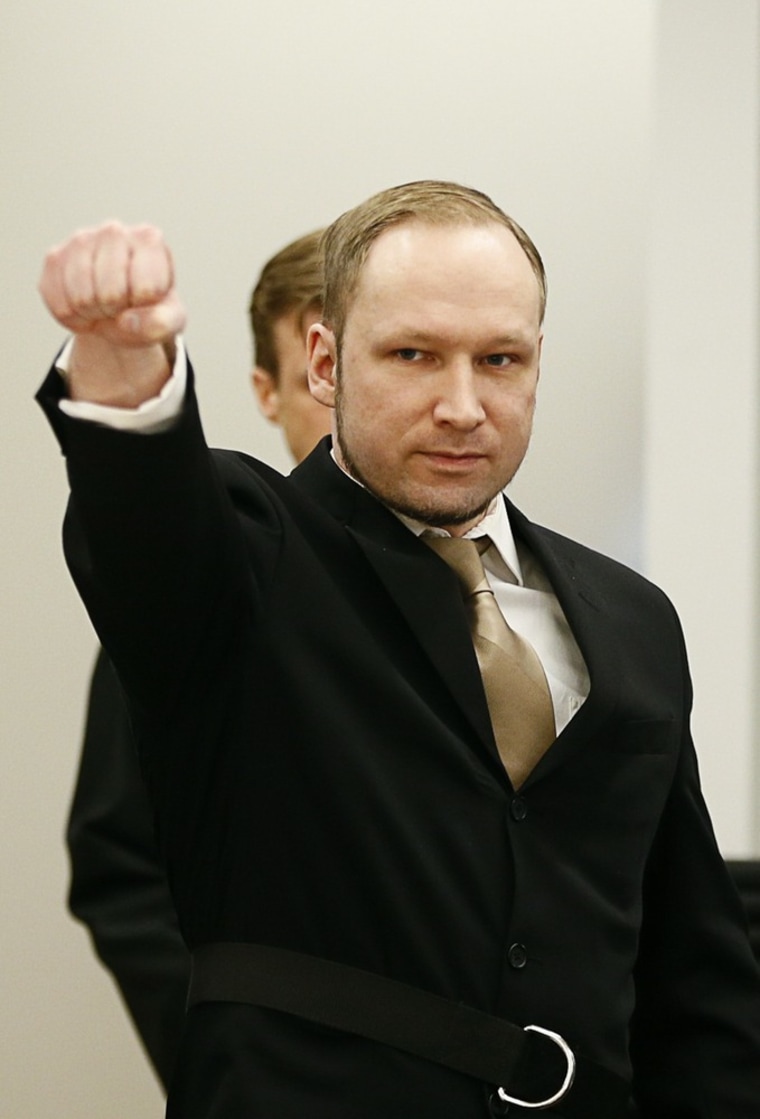 Anti-Islam militant Anders Behring Breivik said Monday that he did not "acknowledge the authority of the court" on the first day of his trial in Norway for killing 77 people in July last year.
"I do not recognize the Norwegian courts. You have received your mandate from political parties which support multiculturalism. I do not acknowledge the authority of the court," Breivik said.
As he arrived in court he gave a salute, raising his arm with his first clenched.
Breivik was asked to confirm details such as his date of birth and the judge then asked if he was unemployed.
"That is not correct. I am a writer and I work from prison," Breivik said.
A prosecutor then began reading the list of all 77 victims, describing how each was killed.
Norway mass shooter Anders Breivik declared 'sane'
The facts of the case will hardly be at issue; Breivik has proudly admitted bombing the government's headquarters in Oslo last July, killing eight people, before gunning down 69, mostly teenagers, at a summer camp of the ruling Labor Party.
Nevertheless, the "lone wolf" killer intends to deny criminal guilt and subject the country to a trial scheduled to last 10 weeks, during which the court must rule on both his guilt and his sanity.
"Not only will he explain (his actions), but he will also say he regrets that he didn't go further," Geir Lippestad, Breivik's defense attorney, said before the trial began, according to Reuters.
Lippestad urged Norwegians to brace themselves for "tough and demanding" testimony.
Some Norwegians fear Breivik will succeed in making the trial, with about 800 journalists on hand, a platform for anti-immigrant ideas. His defense team has called 29 witnesses, ranging from Islamists to right-wing bloggers, to shed light on his world view.
"It is an unfortunate side effect that this provides him a microphone for his ideology," Atle Dyregrov, the director for the Center for Crisis Psychology, told Reuters. "For the victims, it will stir up quite a bit of emotion and bring back a lot of pain."
That appears to be the aim of Breivik, who is scheduled to testify for about a week, starting on Tuesday.
"Your arrest will mark the initiation of the propaganda phase," he wrote in a manual for future attackers, part of a 1,500-page manifesto he posted online, according to Reuters. "Your trial offers you a stage to the world."
In a recent letter seen by Norwegian newspaper VG, Breivik added: "The court case looks like it will be a circus ... it is an absolutely unique opportunity to explain the idea of (the manifesto) to the world."
Reuters contributed to this report.
More from msnbc.com and NBC News:
Follow us on Twitter: