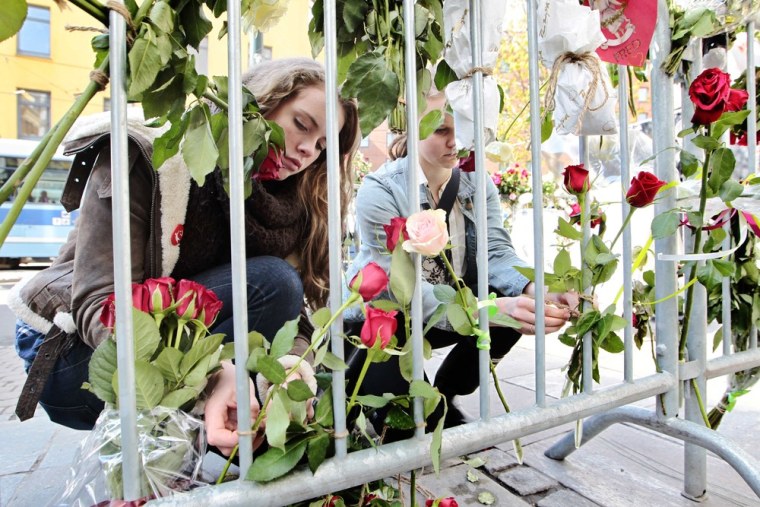 OSLO, April 25 (Reuters) - Norwegians protesting against mass killer Anders Behring Breivik will take to the streets of Oslo on Thursday to sing a children's songs that they're hoping he will just hate.
They plan to sing arm-in-arm a few blocks from the courthouse where Breivik is on trial for the killings of 77 people in a gun and bomb rampage last year.
"I grew up with this song and have sung it to my child," said Lill Hjoennevaag, one of the organizers of the demonstration.
"Everybody I know feels strongly about this song and we need to take it back," she told public broadcaster NRK.
Lillebjoern Nilsen's "Children of the Rainbow," a Norwegian rendition of American folk singer Pete Seeger's 1971 "My Rainbow Race," is a popular song in Norway.
"Breivik has used it as an example of brainwashing, but it is rather an example of the opposite," said Christine Bar, another organizer, who launched the event on Facebook.
"We think it represents diversity, and it stands for the community we have chosen to live in, and which Breivik and similar people want to tear down," she added.
Breivik, set off a car bomb in the capital Oslo, killing eight people, then gunned down 69 people, mostly teenagers, at a youth summer camp organized by the ruling Labor Party on July 22.
Also on Wednesday, the confessed mass killer slammed a psychiatric report that declared him insane as based on "evil fabrications" meant to portray him as irrational and unintelligent.
Norway's Breivik gives 'terrifying' testimony
"It is not me who is described in that report," the right-wing extremist, who admitted killing 77 people in bomb and shooting attacks on July 22, said in court.
A second psychiatric examination found Breivik sane. The five-judge panel trying Breivik on terror charges for the attacks will consider both reports.
Breivik admits to the bombing of Oslo's government district and subsequent shooting massacre at the Labor Party youth camp, claiming the attacks were "necessary" and that the victims had betrayed Norway by embracing immigration.
Images: Norway mourns after massacre
If found guilty, Breivik would face 21 years in prison, though he can be held longer if deemed a danger to society. If declared insane, he would be committed to compulsory psychiatric care.
After listening to testimony describing the horrific injuries of the bombing victims, Breivik showed no remorse, saying if anyone should apologize it was the governing Labor Party.
He said he had hoped they would change policy on immigration after his attacks.
"But instead they continue in the same direction, so the grounds for struggle are unfortunately even more relevant now than before July 22," Breivik said.
Reuters and The Associated Press contributed to this report.
More world news from msnbc.com and NBC News:
Follow us on Twitter: @msnbc_world