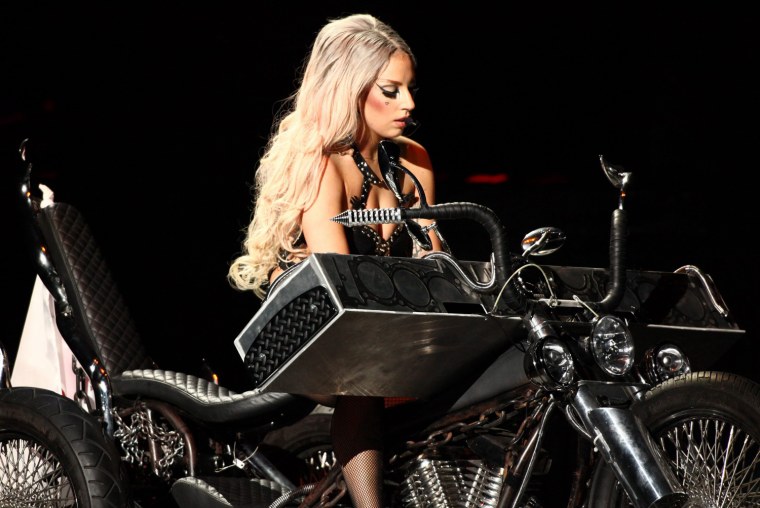 BANGKOK, Thailand – She's an unlikely national ambassador, but to understand the complexities of U.S. relations with the emerging economies of Southeast Asia, it can be revealing to ask what people think of Lady Gaga.
Last month, the American superstar's world tour brought her through Thailand and other countries in the region, which has long held huge geopolitical significance for U.S. policymakers and is now the focus of intense diplomatic and economic rivalry as the U.S. faces a rising China determined to stake its place as a global superpower.
While Thailand is a place that seems – on the surface at least – to have an anything-goes attitude ideally suited to the outrageous and controversial Gaga, appearances can be deceptive. Despite its notorious nightlife and sex shows, Thailand is very conservative in many ways, and the concept of "saving face" is important. Even if embarrassing issues are obvious, discussing them openly is frowned upon. 
'Inappropriate' behavior
For instance, two days ahead of her sold-out Bangkok concert, Gaga fell afoul of many Thais when she sent a light-hearted tweet saying: "I just landed in Bangkok baby! Ready for 50,000 screaming Thai monsters. I wanna get lost in a lady market and buy a fake Rolex."
It's no secret that fake Rolexes are openly displayed and sold in Bangkok's infamous Patpong area, where sex is also for sale in dozens of go-go bars. But Thais don't like foreigners talking about such activities, and Gaga's comment caused a storm of protest.
"We are more civilized than you think," tweeted Thai DJ Surahit Siamwalla in response, announcing that he planned to boycott the concert.
Some Thais also took offense when Gaga appeared on stage during one of her concerts scantily dressed and sitting on a motorcycle with a Thai flag trailing behind her. The Culture Ministry made an official complaint that this use of the flag was "inappropriate and hurt Thai people's sentiment."
The spat is indicative of a growing unease among traditional Thais over what they see as foreign influences corrupting the country. It is somewhat surprising, because for decades the country's conservative elite was strongly pro-American, in part because the Thai ruling class was desperate to prevent the spread of Communism, and embraced America's assistance.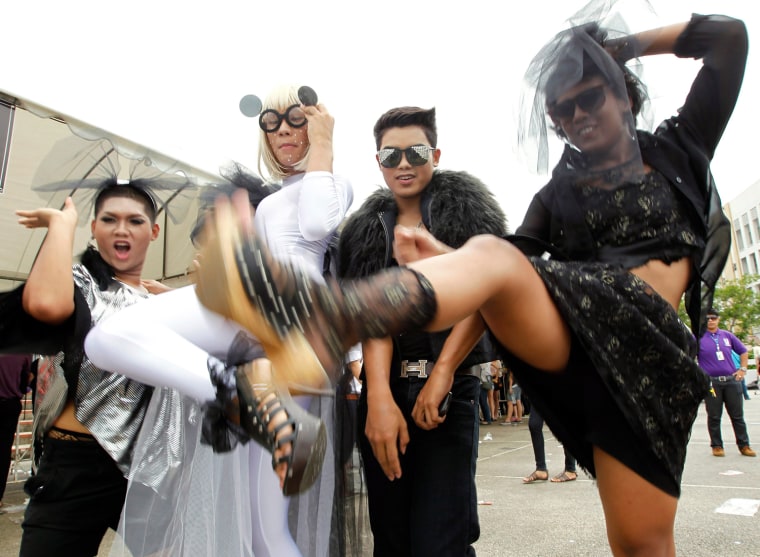 Recently, however, the conservative Thai establishment has grown increasingly hostile to the "Western" values symbolized by America, partly in response to growing pressure from ordinary people for greater democracy and freedom of speech.
One flashpoint in this debate was the treatment of a U.S. citizen arrested last year for circulating a partial translation of a book by an American author that took a critical look at the Thai royal family. Joe Gordon, who was born in Thailand but emigrated and became a car salesman in Colorado, was sentenced to two and a half years in jail last December for breaking the "lèse majesté" law that forbids criticism of the monarchy. 
The United States found itself dragged into the debate, with hundreds of royalists protesting outside the U.S. embassy in Bangkok after American diplomats criticized the jailing of Gordon and called for greater freedom of speech.
One of them was Tul Sitthisomwong, a leader of the royalist United Siam group.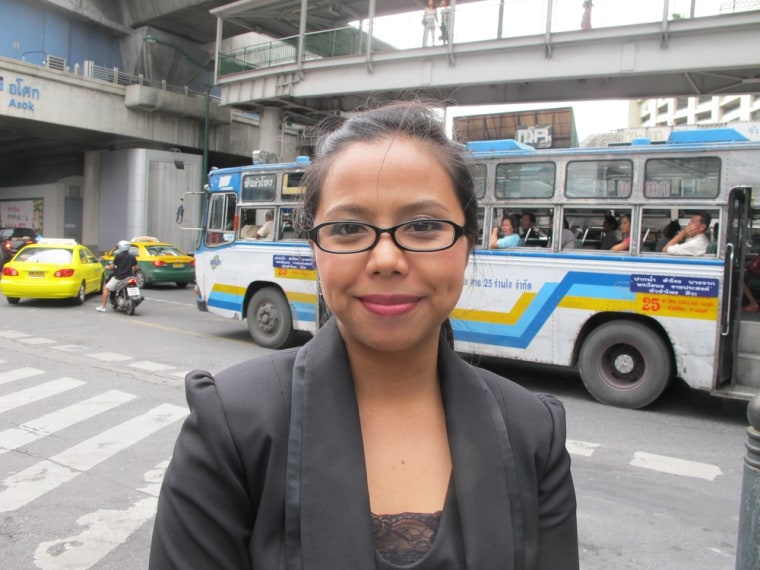 "We feel annoyed," he said during a recent interview. "We know that America focuses on human rights and freedom of people, but "lèse majesté" in Thailand ... is not about human rights, it's about breaking the law."
Tul said that the U.S. is meddling in other countries to try to maintain its waning influence. "They are like big brother, but right now they're weaker and getting sick but they try to be strong." 
He also said that there might be a hidden agenda in the U.S. request to use Thailand's U-Tapao Royal Thai Navy Airfield for its humanitarian assistance and disaster relief operations.
"After the mission in the Middle East, they are coming back to this region, Southeast Asia. It likes confronting China – so I think America would like to have a powerful [base] again in this region. So they pick up Thailand," he said.
It doesn't help that America is also widely seen as arrogant. "They are the best, that's what they always think, that they are the best," Juthamas Carranco, who works in a Bangkok hotel, said.
'A good example' for Thailand
But to many younger Southeast Asians, modernity is nothing to fear, and tolerance is a virtue. America produces movies and music that they love, and represents freedom from religious and cultural restrictions.
"America is a good example for Thailand – especially the education system, work ethic and the freedom," said Amorn Wanichwiwatana, a professor of political science at Chulalongkorn University in Bangkok.
"Lady Gaga is an artist, and I want Thais to look at her like that," he added. "When she performed in the concert with Thai flag, I don't think she had a bad intention. I feel she even respected our culture."
Jiraporn Prasert, an office worker who attended the Gaga concert in Bangkok, also didn't believe the singer was being deliberately offensive to Thais.
"I like Lady Gaga very much," said Jiraporn. "About the problem that we are having with her, I want people to look at her from different angles. I would like them to look at what cause the issue. Is it really from Gaga or because of things surround her?"
When Lady Gaga performed in Bangkok, I was also one of the 50,000 people who watched her perform, and whatever controversies she may have caused around the region, there was no doubt about one thing: she rocked the arena and the audience loved it.
This story is part of a series by msnbc.com and NBC News "What the World Thinks of US". The series aims to check the pulse on current perceptions of America's global stature during the election year and ahead of our annual Independence Day.
Share your thoughts about this story and our series on Twitter using #AmericaMeans 
Special series: What the World Thinks of US 
How I see America, from a former Gitmo prisoner
Bye, bye, GI: Deep impact for many Germans as US troops downsize
Post-revolution Egypt to US: Stay out 
Iran's dentist to the stars offers views on US
For many Pakistanis, 'USA' means 'drones' 
One man's mission: Promote Chinese patriotism in the face of Western onslaught
In South Africa: 'My head says China is number one, my heart says America'
Not all Thais are Gaga about America
Family moves from the Bronx to Jerusalem, but US remains land of 'liberty and freedom'
Palestinian: US supports 'an apartheid system that is suffocating us '