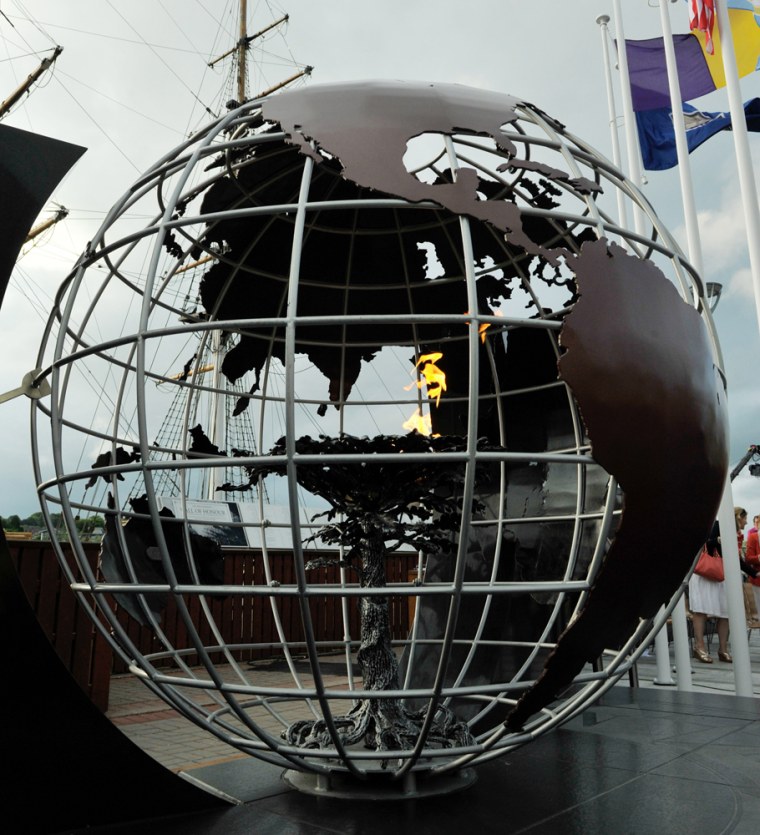 An Irish memorial lit using fire taken from John F. Kennedy's eternal flame at Arlington National Cemetery went out just four days later.
The late president's sister Jean Kennedy Smith, his daughter Caroline Kennedy and Irish premier Enda Kenny used torches on Saturday to establish the "Emigrant Flame" in New Ross, Wexford.
The flame forms part of a memorial to generations of Irish people who migrated to the U.S. and other countries, particularly during the Irish famine in the mid-19th century.
John F. Kennedy, who visited Ireland 50 years ago, was the descendant of Patrick Kennedy and Bridget Murphy, who emigrated to the U.S. from New Ross during the famine period and later married.
Eamonn Hore, of Wexford County Council, confirmed that the Emigrant Flame had gone out on Wednesday night.
He said there had been a buildup of soot at the flame, which has sensors that can detect any problems and turn off the gas supply.
Hore said the council had miner's lamps that were lit at Arlington so the Emigrant Flame can be restarted.
"It is a fact that with a flame like that as part of the maintenance anyway it will be switched off," he said.
He said that it had been expected that during the first month at least they would have to make adjustments to the flame.
"It's a matter of getting the oxygen levels right, the gas right and the position of the sensors," Hore said.
Hore said the memorial is located about 100 feet away from where Kennedy and Murphy would have left for the U.S.
He said there was still "great love and affection for the Kennedy family" in Ireland, adding that more than 30 Kennedy family members were present at Saturday's ceremony.
Kennedy's 1963 trip to Europe is famous for his "Ich bin ein Berliner" speech, but Hore said his visit to Ireland had a "similar if not a great impact."
"We were really a very young nation," he said. "I think he just showed people what could be done. Basically he gave confidence back to the whole Irish nation at a time when we were only just finding out feet."
On Saturday, Kenny said Kennedy's visit "remains one of the iconic moments of 20th century Ireland."
"The powerful symbolism, memorable speeches and the warmth of the interaction between this Irish American President and the Irish public had an impact on both," he said.
Witnesses still remember Kennedy's youthfulness and charisma and the way he joined in the singing of a ballad about a 1798 revolt against the British, Reuters reported.
"There was no visit that my father made as president that meant more to him that his visit to Ireland," Caroline Kennedy said outside the small cottage where her great-great-grandfather was born and where her father sipped tea with relatives half a century ago. "Growing up in our family, nothing was a greater source of pride than our Irish heritage."
Related: