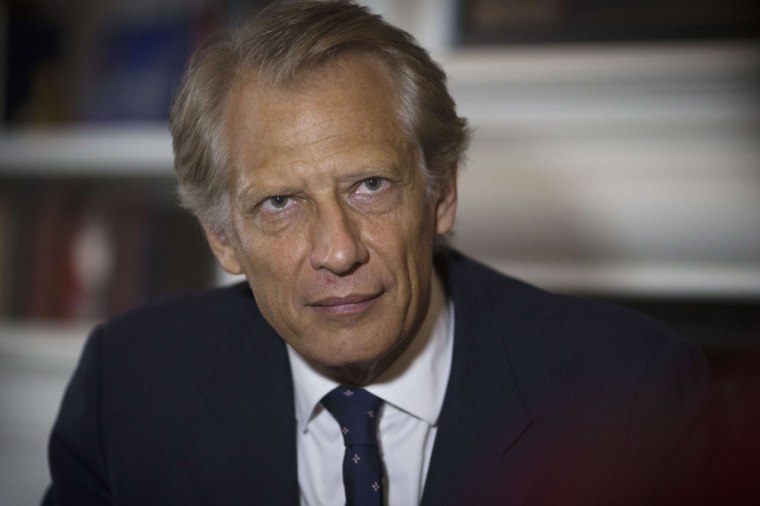 PARIS - Spying on world leaders has dealt a "major blow" to U.S. foreign interests because it shows that "America doesn't trust its allies," French former prime minister Dominique de Villepin told NBC News.
The conservative politician, who was raised in the U.S. and was a key ally of Washington when in office between 2005 and 2007, said surveillance of foreign leaders had undermined the America's authority overseas.
In an interview Thursday, De Villepin said that the episode showed "an incredible weakness" of American leadership and that the surveillance programs were "not an act of a democratic country."
"It's an act of a country [that] believes so much in its own power that it believes it can go beyond beyond the rule of law," he added. "You cannot teach lessons to the world when you are not giving the example."
Washington has been scrambling to soothe some of its closest allies, angered by a string of newspaper reports that it spied on leaders of at least 35 countries, and even bugged the personal cellphone of German Chancellor Angela Merkel.
One report, published last week in the Spanish newspaper El Mundo, said that the National Security Agency had also collected information on private citizens, including details of 60 million telephone calls in that country last December.
"I believe that for the U.S., U.S. diplomacy, U.S. interests, it's a major blow," de Villepin said. "The truth is it's a major blow because it shows America don't trust anybody. America doesn't trust its allies. America is trying to fight alone against an enemy that cannot be fought alone. You need cooperation. You need friends. You need strong leadership and in this case, there is only – what? A couple of agencies trying to fight an enemy which is invisible."
De Villepin also described the surveillance programs as "useless" and "totally inefficient" in the fight against global terrorism.
"Technology is nothing when it is not based also on human resources," said de Villepin. "Good intelligence is always based on cooperation. And in this case, there is a very, very serious blow on trust.
"This kind of monitoring, this kind of control makes everyone an enemy. It makes you, me, anyone in this country a potential enemy of the U.S. In the meantime you are not looking for the real target."
He added: "When I listen to the head of the NSA, to the head of some intelligence agencies in front of the congress committees, what do I see? People that don't understand even what is the target. They are nice guys but they are not at the level of understanding of the problems of the world. How can you be efficient when you trust people who are not qualified for that?"
His criticisms were echoed Thursday by Tim Berners-Lee, creator of the World Wide Web. Berners-Lee told Britain's Guardian newspaper that U.K. intelligence workers had undermined the global fight against Internet crime by hacking online privacy software. He described the move as foolish, and a betrayal of the technology industry.
The U.K. government is facing criticism over the actions of its intelligence agencies, due in part to Britain's close cooperation with the NSA.
In response to public anger, British intelligence chiefs were due to give their first ever public testimony later Thursday when they are cross-examined together in parliament about the case of former U.S. spy agency contractor Edward Snowden.
The evidence-gathering session comes amid calls for the government to step up oversight of its three main intelligence agencies after documents that Snowden leaked to the press exposed Britain's role in secret mass surveillance programs.
Reuters contributed to this report. Alastair Jamieson reported from London.
Related: