U.S. Secretary of State John Kerry arrived in Switzerland early Thursday, where teams negotiating over Iran's nuclear program are reconvening after talks last week broke up without an agreement. With a March 31 deadline for an interim deal looming, here's a look at the main players, sticking points and various twists and turns the negotiations have taken.
WHAT THEY ARE NEGOTIATING
The U.S., China, Russia, Germany, France and Britain — dubbed the P5+1 — are trying reach a deal with Iran that would restrict Tehran's nuclear program in return for the lifting of crippling economic sanctions.
While Iran has consistently said that it does not want nuclear weapons, other nations, such as Israel and the U.S., worry that Tehran wants the option of building a bomb at the time of their choosing. The main worry is that Tehran will develop the capacity to enrich uranium on an industrial scale — the fuel required for nuclear weapons — build more reactors, and be in a position to build a nuclear warhead in a short period of time.
The controversy, which is more than a decade old, has threatened to plunge the region into war.
MAIN PLAYERS
What does Iran want?
Iran wants the lifting of economic sanctions and an accepted nuclear program. A major stumbling block in this latest round of talks is that Iran is pressing world powers to lift U.N. sanctions immediately, including some relief from sanctions and removal of restrictions on its research and development programs.
Iran's President Hassan Rouhani, who has staked his reputation on negotiating a lifting of sanctions, has come up against hardliners at home who do not trust the U.S. to honor an agreement and are suspicious of the West in general.
An agreement would bring the country in from the cold, diplomatically. It also would potentially open up foreign investment in Iran, which has the world's fourth-largest proved crude oil reserves and its second-largest natural gas reserves, according to the Department of Energy.
What does the U.S. want?
The size and scale of Iran's uranium enrichment program is the main concern for the United States. In an interview this month, President Barack Obama said Iran would have to accept limits on its nuclear activities for at least 10 years under any deal.
One further sticking point is that the U.S. has been calling for a written political agreement to be signed by the end of March — but Iran has rejected the idea of a written interim deal before a final deal by June 30.
Obama has spent enormous political capital in achieving a deal. "I believe that our nations have an historic opportunity to resolve this issue peacefully," Obama said in a video directed at Iran on Thursday.
The White House has clashed with the Republican dominated Congress and allies Israel and Saudi Arabia over whether Iran can be trusted to stick to a deal, or whether allowing Iran any nuclear infrastructure is wise.
In a major break with protocol, House Republicans earlier this year invited Israel's Prime Minister Benjamin Netanyahu to make a speech against a nuclear deal in Congress — without checking with the White House. And on March 9, Senate Republicans wrote a letter to Iran's leadership suggesting they can undo whatever agreement the Obama administration signs.
What does he rest of P5+1 want?
One European negotiator has told the AP that a deal was conditional on Iran abandoning research into more advanced centrifuges that could help it quickly produce an atomic arsenal.
France is pushing for at least 15 years for the agreement, followed by a 10-year period of intense monitoring by the U.N. International Atomic Energy Agency.
The U.K., Russia, China, France and Germany have a lot to gain from a successful outcome in negotiations, and have had profitable trade relations with Iran in the past. The lifting of sanctions would allow new investment in the oil-rich country and the re-establishment of economic and trade ties.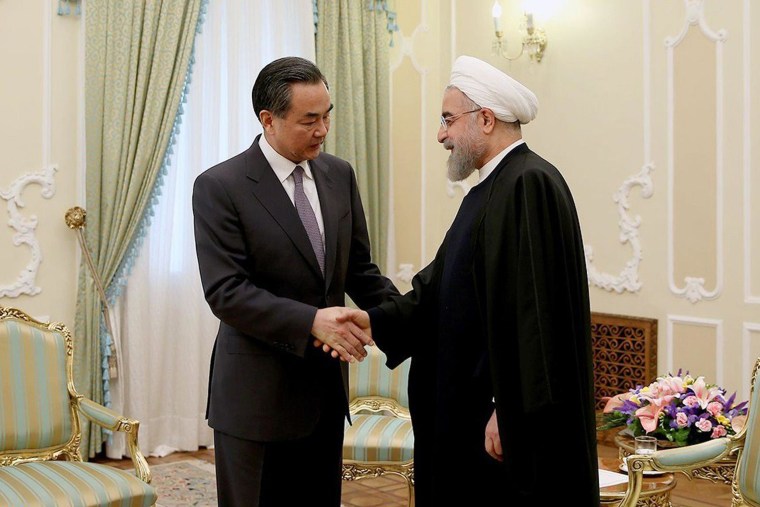 What do Israel and Saudi Arabia want?
While Israel and Saudi Arabia are not at the negotiating table, they are central to the debate.
Many in Israel feel Iran poses an existential threat to their country and believe that Tehran cannot be trusted with any nuclear industry. Relations between the two countries could hardly be frostier. Israel, which is believed to posses the Middle East's only nuclear arsenal, has in the past hinted it was ready to attack Iran.
Iran, meanwhile, does not officially recognize Israel, and some Iranian leaders have questioned whether the Holocaust ever happened.
While not as publicly outspoken as Israel, Sunni Muslim Saudi Arabia, Shiite Iran's regional rival, is deeply suspicious of Tehran's nuclear program and accuses it of fomenting sectarian tensions throughout the region.
Senior Saudis have also said a deal could fuel a Mideast nuclear arms race.
"I've always said whatever comes out of these talks, we will want the same. So if Iran has the ability to enrich uranium to whatever level, it's not just Saudi Arabia that's going to ask for that," Prince Turki bin Faisal al-Saud, a former director of Saudi intelligence, recently told the BBC.
HOW LONG HAS THIS BEEN GOING ON?
In short: over a decade. International alarm over Iran's nuclear ambitions was sounded after Iranian opposition revealed in 2002 that the country was building a uranium enrichment and heavy water production plants. While Iran said a year later that it would suspend uranium enrichment activities and work with the International Atomic Energy Agency on its nuclear program, that process fell apart in 2006.
The United Nations then passed a series of resolutions aimed at curbing Iran's nuclear program. Controversy continued to boil, and 2007 remarks from then-president Mahmoud Ahmadinejad about plans to make industrial quantities of nuclear fuel added heat to the fire.
Tehran agreed in 2009 to send existing uranium abroad so it could be made into fuel for medical use, but that option was rejected by the U.S. Later that year, U.N. experts found an enrichment facility inside a mountain bunker.
Iran in 2010 began making higher-grade nuclear fuel, and in 2011, Bushehr nuclear power plant began providing electricity to the national grid, according to IRNA news agency. Ahmedinejad then said in April 2012 that Iran would not give up its nuclear rights "even under the most difficult pressure."
When Rouhani became president of Iran in the summer 2013, he pledged transparency on nuclear issues. In November of that year, Iran signed the interim Geneva accord, which temporarily lowered sanctions in exchange for Tehran freezing some parts of its nuclear program. The current round of talks — due to recommence on Wednesday — have been aimed at reaching a permanent deal.
— NBC News' Ali Arouzi, Hooman Majd, F. Brinley Bruton, Alastair Jamieson and Andy Eckardt.
Reuters and The Associated Press contributed to this report.