Authorities raised the number of people missing to 91 on Monday after a landslide buried 33 buildings in the southern Chinese city of Shenzhen, official state media reported.
Three people were injured in the disaster at the Hengtaiyu industrial park in Guangdong Province about 11:40 a.m. (10:40 p.m. ET Saturday), which left more than 1 million square feet of debris, the Chinese state news agency Xinhua reported.
The number of missing continued to rise throughout the day. Early Monday, authorities put the number at 27, only to revise it Monday afternoon to 59 and then again to 91.
Xinhua reported that "unfavorable geological conditions," including rain, topography and mud, were hampering efforts to recover people trapped in or under the debris.
"The site is quite narrow and is located on a ramp, so it is very difficult for vehicles to enter," Ao Zhuoqian of the Shenzhen fire department said, according to Xinhua. "We have to go there on foot."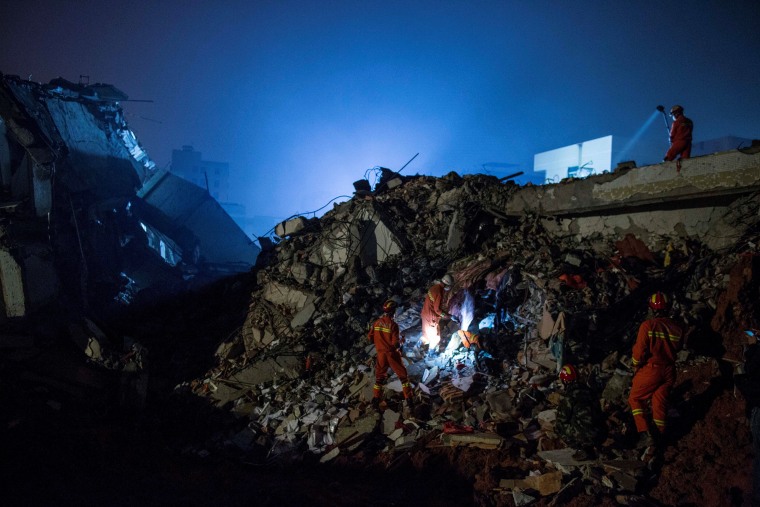 An employee with Liuxu Technology Co., which is in the park, told Xinhua that power went out abruptly around noon.
"I saw red earth and mud running towards the company building," he said. "Fortunately, our building was not hit, and all people in our company were safely evacuated."
Peng Jinxin, a local resident, said a large amount of mud came like "huge waves" when the landslide struck.
Another village resident said he narrowly escaped the disaster before torrents of mud engulfed his home.
"At one point, the running mud was only 10 meters [33 feet] away from me," the man said.