A commercial aircraft en route to New York City from Cairo was forced to go off course and land in Scotland on Saturday after a passenger found a hand-written note in a bathroom, the state-owned EgyptAir said in a statement.
A British Royal Air Force fighter jet guided EgyptAir Flight 985 to an emergency landing at Glasgow's Prestwick Airport at 2:25 p.m. local time, where approximately 300 passengers disembarked, according to Carol Gable, an NBC News producer who was on board the Boeing 777 bound for John F. Kennedy International Airport.
"There were snipers all around the plane when we landed. Local police patted down every passenger," Gable said.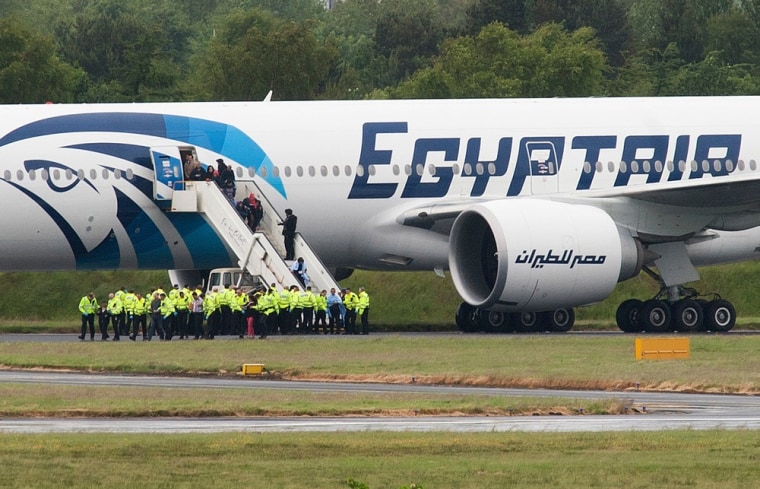 The passengers were sequestered in a building adjacent to the airport. Local authorities are expected to conduct interviews and take DNA samples, according to Gable.
The sudden diversion four hours after takeoff was prompted by a passenger's discovery of an allegedly threatening note in the airplane's bathroom, EgyptAir confirmed in a statement Saturday afternoon. An EgyptAir flight staffer told Gable that the note was "carefully and legibly" written in English.
Gable said she learned the note made references to fire and that it "was not about a bomb."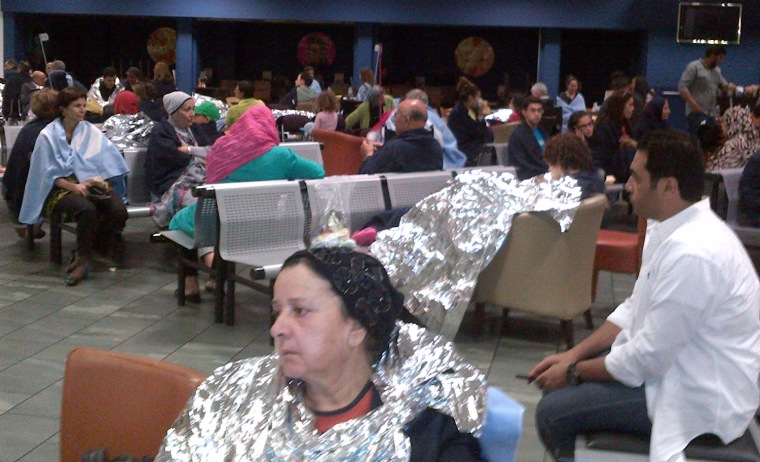 Nada Tawfik, a reporter for the BBC, told the broadcaster that she found the note in a bathroom.
"I found this note by the sink, basically saying, 'I'll set this plane on fire' with a seat number written on it, so I immediately went to the plane crew," Tawfik told the BBC.
"It was a hard napkin and written in pencil and the pencil was there with the note," Tawfik said. "It almost looked like a child's handwriting; someone with very sloppy handwriting."
Passengers eventually reboarded the plane and it left for New York before 10 p.m. ET.