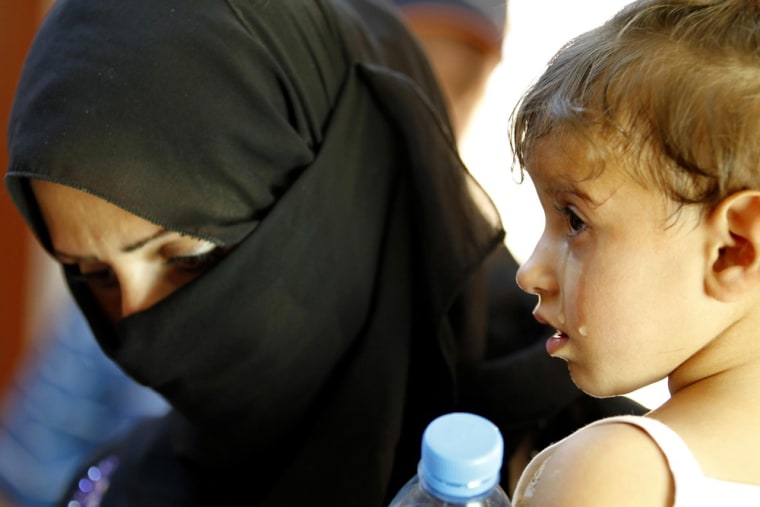 The U.S. is to give more than $300 million in additional "life-saving humanitarian assistance" to Syrians caught up in the country's civil war, Barack Obama has announced, taking the total amount given since the conflict began to nearly $815 million.
The extra money will be used to pay for food, medical care, clean water, shelter and other relief supplies for people in Syria and some of the 1.6 million refugees who have fled to neighboring countries.
The president announced the extra money during a meeting with world leaders at the Group of Eight summit in Lough Erne, Northern Ireland, on Monday.
"The United States remains the single-largest contributor of humanitarian assistance for the Syrian people," a statement on the White House's website said.
"The United States supports and appreciates the countries hosting the 1.6 million refugees who have fled the brutal conflict in Syria, and commends host-nation efforts to provide protection, assistance, and hospitality to all those fleeing violence," the statement said. 
"The United States recognizes the significant strains on host communities and the economic impact of providing refuge to such a large number of people," it added. "We call on all host governments to continue to keep their borders open to those still fleeing violence in Syria."
On June 7, the United Nations launched its "largest humanitarian appeal in history," saying some $5 billion would need to be spent helping Syrian refugees in 2013. It said it expected half the population of Syria to be in need of aid by the end of the year.
More than $128 million of the money announced Monday will go toward helping people inside Syria, with the rest divided between refugees in Lebanon, Jordan, Iraq, Turkey and Egypt.
World Vision, an aid group working in Syria and neighboring countries, told Reuters that the money would help.
"The world has so far failed to keep up with the basic needs of people impacted by the conflict," said Nathaniel Hurd, a policy adviser with the group, urging other donor countries to follow suit.
Related stories: