President Obama escalated a war of words with Republican foe Mitt Romney, challenging the former Massachusetts governor to explain his 2007 comments suggesting that it might not be worth leveraging all U.S. resources to find Osama bin Laden.
The president denied that he or the United States were engaged in "excessive celebration" to mark the one-year anniversary of the mission that ended successfully with bin Laden's assassination at a safe haven in Pakistan.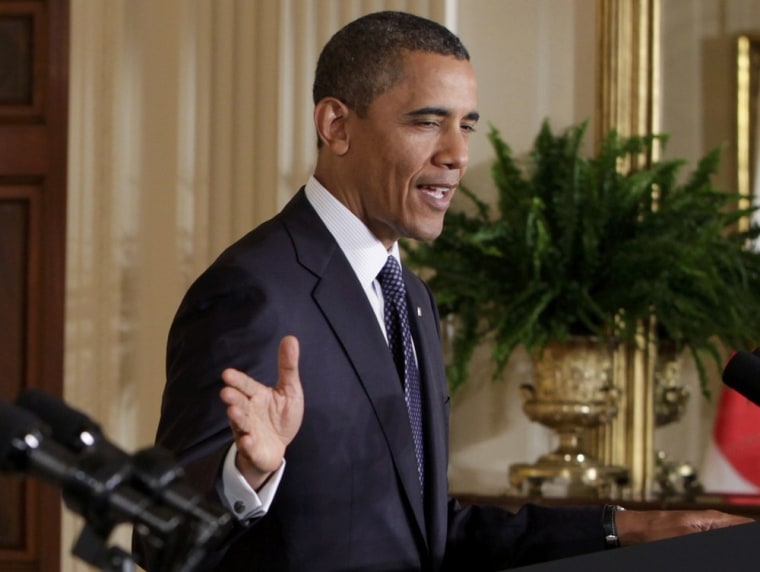 "I hardly think that you have seen any excessive celebration taking place here," the president said at the White House. "And I think for us to use that time for some reflection, to give thanks to those who participated is entirely appropriate, and that's what's been taking place."
Obama continued, making no mention of Romney by name, but clearly intending to put his general election opponent on the spot, while taking a degree of credit for the mission.
Obama said in response:
As far as my personal role and what other folks would do, I'd just recommend that everybody take a look at people's previous statements in terms of whether they thought it was appropriate to go into Pakistan and take out bin Laden.
I assume that people meant what they said when they said it. That's been at least my practice. I said that I'd go after bin Laden if we had a clear shot at him and I did.
If there are others who have said one thing and now suggest they'd do something else, then I'd go ahead and let them explain it.
That was an unmistakable reference toward Romney's 2007 comments to the Associated Press that "it's not worth moving heaven and earth spending billions of dollars just trying to catch one person," meaning bin Laden.
Those comments have become part of a bit of political gamesmanship surrounding the anniversary of the bin Laden mission, as Obama's re-election campaign works to win the president credit for his decision to authorize the risky mission.
Romney said after an event this morning in New Hampshire that "of course" he would have given the order to authorize the bin Laden mission. "Even Jimmy Carter would have given that order," said the former Massachusetts governor.
The Obama campaign has used Romney's 2007 remarks, though, to imply that Romney wouldn't have given that order.
"I also think it's worthwhile to make sure that, as we're heading into this general election ... the American people know where Mitt Romney did stand on it. It's not exploitation, it's fact," Obama's deputy campaign manager, Stephanie Cutter, told Andrea Mitchell this afternoon on MSNBC. "Mitt Romney ... said he wouldn't have gone into Pakistan to pursue bin Laden with actionable intelligence if the Pakistanis wouldn't get him [bin Laden]. And he also said he wouldn't move heaven and earth to get bin Laden. Well, the president did move heaven and earth."