TEL AVIV — Nobel Peace Prize laureate and former Israeli President Shimon Peres was remembered as a "great man" as scores of world leaders attended his funeral Friday.
President Barack Obama and President Bill Clinton were among 90 delegations from 70 countries paying their respects to Peres, who died Tuesday while hospitalized for a major stroke. He was 93.
Related: World Remembers Shimon Peres, 'The Face of Israel'
His flag-covered casket was carried from the Knesset in Jerusalem and escorted to the ceremony at Israel's Mount Herzl national cemetery, where a rabbi sang traditional funeral prayers.
Peres served as the nation's ninth president and as prime minister, as well as in various other positions over a career that spanned six decades.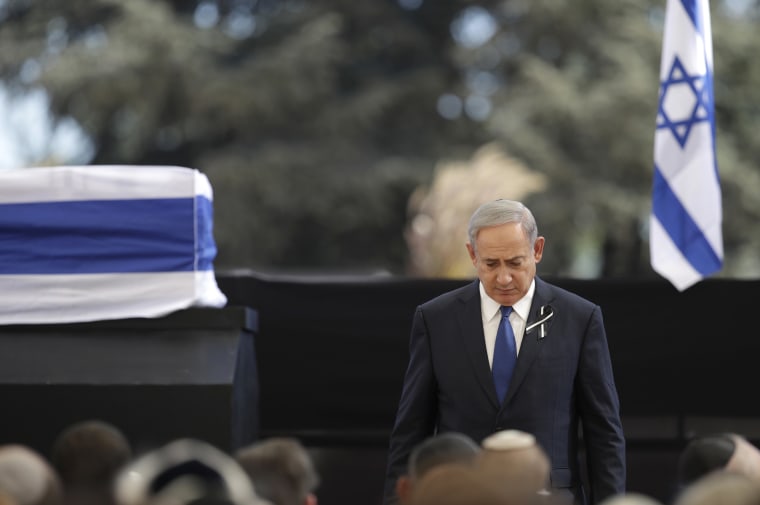 Some 6,000 admirers, family members and international dignitaries attended the ceremony, including Palestinian President Mahmoud Abbas.
In a 20-minute eulogy, Obama said Peres showed that that justice and hope are at the heart of the Zionist ideal, and had always strived for a resolution of Israeli-Palestinian conflict that treated both sides equally.
"Even in the face of terrorist attacks, even after repeated disappointments at the negotiation table, he insisted that as human beings, Palestinians must be seen as equal in dignity to Jews and must therefore be equal in self-determination," he said.
He said Abbas's attendance was a reminder of the "unfinished business of peace" in the Middle East.
In pointed remarks, Obama compared Peres to "other giants of the 20th century" such as Nelson Mandela and Queen Elizabeth who "find no need to posture or traffic in what's popular in the moment."
"Shimon never saw his dream of peace fulfilled," Obama said. "And yet he did not stop dreaming, and he did not stop working."
Prime Minister Benjamin Netanyahu, who exchanged a rare handshake with Abbas before the ceremony, paid tribute to Peres as "a great man of the world," adding: "Israel grieves for him. The world grieves for him."
Clinton called Peres a "wise champion of our common humanity" and described a meeting where Israeli and Arab children together sang John Lennon's "Imagine."
Clinton said Peres "imagined all the things the rest of us could do. He started life as Israel's brightest student, became its best teacher and ended up its biggest dreamer."
After the ceremony, the casket was led to the gravesite carried by eight members of an honor guard and led by soldiers carrying wreaths. Netanyahu and Obama chatted along the way, also talking with Peres' family.
An Israeli flag was removed from the casket as it was lowered into the ground in a plot alongside two other prime ministers, Rabin and Yitzhak Shamir.
A staunch patriot credited with building up Israel's military, and who supported settlements in territories occupied by Israel after the 1967 war, Peres later pursued a more conciliatory path toward peace between between Israel and its Arab neighbors.
Related: Peres Was Less Peace-Maker, More 'Fox' in Arab Eyes
In 1994, Peres won the Nobel Peace Prize, sharing the honor with then-Israeli Prime Minister and political rival Yitzhak Rabin and Palestinian leader Yasser Arafat.
Peres was Israel's foreign minister during talks between Israel and Palestinian representatives, which led to the creation of the Oslo Accords. The deal marked the first time the State of Israel and the Palestine Liberation Organization formally recognized each other and the possibility of a two-state solution.