For the U.S. military and the defense industry, two critical events are looming: the November election which may give the nation a new commander in chief, and automatic spending cuts required by last year's Budget Control Act which would slice about 5 percent from Defense Department outlays in the fiscal year which begins on Oct 1.
In an outreach to conservatives, Deputy Defense Secretary Ashton Carter went to a right-of-center think tank, The American Enterprise Institute, on Wednesday to deliver the message that the Obama administration is determined to avoid the automatic cuts which take effect in January, and is pushing ahead with a strategic pivot from Iraq and Afghanistan to the Pacific Rim.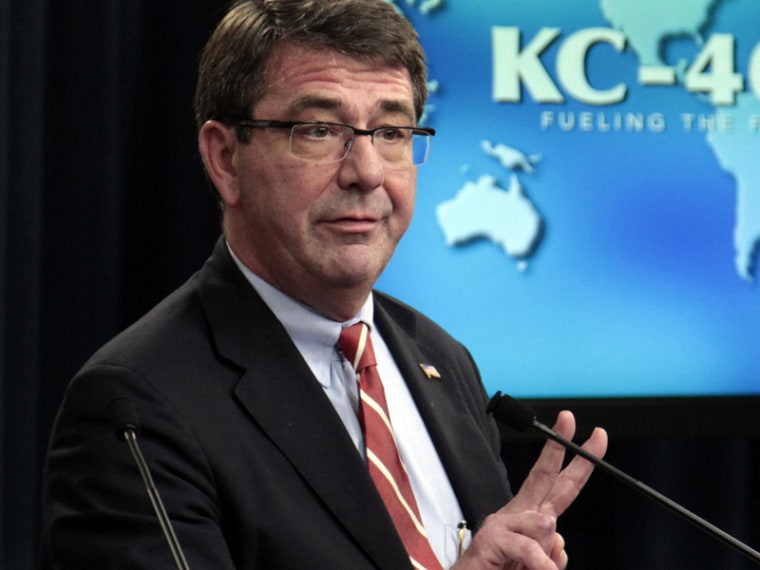 He also relayed that the White House is spending billions to prepare for new threats such as bio-engineered pathogens.
Carter made a point of praising the man who held his job in the Bush administration, Paul Wolfowitz, who is now a scholar at AEI, lauding him for his outreach to India while at the Defense Department and for his concern about those bio-threats.
Although Carter is not a politician, his speech – combined with the Obama administration's cooperation with Tuesday's New York Times story on the president's process for deciding which terrorists will be killed – seemed to have the feel of an effort to re-affirm the administration's seriousness about defense policy.
It comes squarely in the middle of an election season in which Republican presidential contender Mitt Romney has accused Obama of being irresolute on defense.
"Despite his big talk about bolstering our military position in Asia, President Obama's actions will inevitably weaken it," Romney said in February.
In his comments at AEI, Carter underscored warnings from Defense Secretary Leon Panetta that the automatic cuts, or sequestration in Capitol Hill jargon, would damage national defense.
"People have asked, 'are we planning for sequestration?' The secretary of defense has said no we're not — maybe later in the summer" when officials being to look at options for cuts, he said. 
"Planning has certain rational tone to it, but Congress in writing the Budget Control Act did not design sequester to be rational. Sequester was supposed to be ... a trigger so irrational that the prospect of it would drive and force the leadership to do what was needed" to agree on a budget plan that could win wide support.
But perhaps that trigger wasn't irrational enough: Last year the special congressional deficit reduction "super-committee" failed to agree on a plan to increase revenues and cut spending.
Sequester will "disrupt thousands of contracts and programs," Carter said. And Defense Department leaders would have only limited flexibility in deciding how the cuts would be applied. "Both the size and the nature of sequester nullify strategy."
Carter also warned that the automatic cuts, or even the impending threat of them, would hurt American companies that manufacture technology and weapons systems for the military. "It makes a managerial mess out of all the things we've tried so carefully to put on a steady pace."
Carter's warning echoed that of Lockheed Martin CEO Robert Stevens who said in March that "the aerospace and defense industry cannot wait until a lame duck session (of Congress) to deal with the consequences of sequestration. We are already taking action by not hiring and training new workers, not investing in new plants and equipment and not investing in new R&D."
The cuts would come on top of an already scheduled ten-year $487 billion reduction in defense outlays from the levels that had been planned a year ago.
Panetta has already announced reductions in the Army and Marine Corps, going from 562,000 soldiers in the Army to 490,000 by 2017, and shrinking the Marines from 202,000 to 182,000 by 2017. Also he proposes to eliminate seven tactical Air Force squadrons and retire seven Navy cruisers, as well as other programs.