President Obama roused union members behind supporting his re-election bid in a speech Monday to labor leaders, a core Democratic constituency with which his administration has had differences in his first term.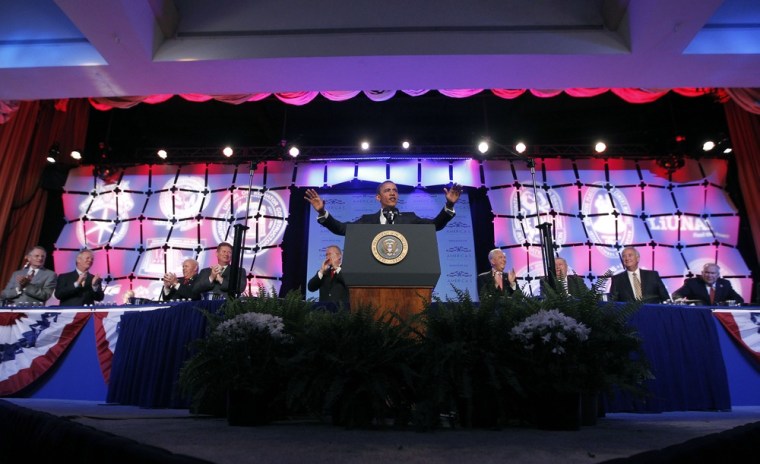 "These have been some tough years we've been in," Obama said to members of the Building and Construction Trade Department, an AFL-CIO-affiliated group. "I know a lot of your membership can get discouraged. They can feel like nobody's looking out for them. They can get frustrated and it sure is easy to give up on Washington."
Among those labor members who have expressed their frustration with Washington -– including the president –- is AFL-CIO President Richard Trumka, who in January criticized the administration's Council on Jobs and Competitiveness for focusing on reforming regulations and the tax system.
There are varied other instances in which unions that supported Obama during the 2008 election felted jilted by the president. Labor leaders pushed for a more robust stimulus and jobs program, and were generally disappointed deeply by Obama's decision to jettison the so-called "public option" as part of health care reform. The Employee Free Choice Act, a priority of organized labor that had enjoyed administration support, also died in Congress amid heavy business opposition.
Unions have also been generally supportive of a plan to build the TransCanada Keystone Oil pipeline, development of which the administration has mostly blocked.
Obama told the group Monday that, while he has not always been "a perfect president," he has kept his promise to labor unions –- and, by extension, all voters.
"I made a promise I'd always tell you where I stood, I'd always tell you what I thought, what I believed in. And most importantly, I would wake up every single day working as hard as I know how to make your lives a little bit better," he said. "And for all that we've gone through these three-and-a-half or four years, I have kept that promise."
While not mentioning presumptive Republican presidential nominee Mitt Romney by name, Obama also contrasted his views on labor with those of Republicans, saying that the party wants to weaken labor unions.
"If you asked them what's their big economic plan in addition to tax cuts for rich folks, it's dismantling your unions," Obama said.
He criticized Republicans for advocating so-called "right to work" laws, which bar unions from requiring prospective employees to join as a precondition for being hired. Twenty-three U.S. states currently have such laws.
"I believe when folks try and take collective bargaining rights away by passing so-called 'right to work' laws that might as well be called 'the right to work for less and less,' that's not about economics -- it's about politics," Obama said.
He said that his support for labor unions was evident in his belief in strong collective-bargaining rights.
"The right to organize and negotiate a fair pay for hard work should be the right of every American -- from the CEO in the corner office to the worker who built that office," he said.