RENO, NEVADA -- President Barack Obama accused Republicans of playing politics with the military as he addressed the national convention of the Veterans of Foreign Wars (VFW), whose members represent what could be a key voting bloc for both Obama and his Republican rival Mitt Romney.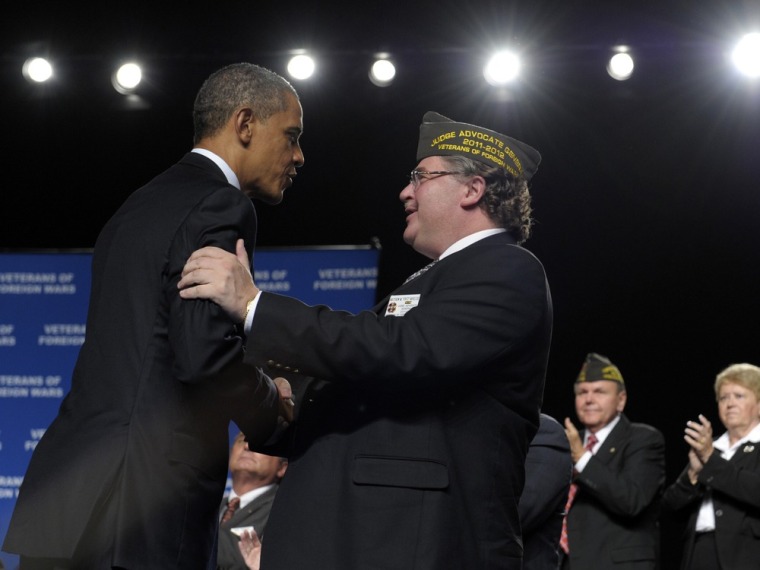 Obama, who last addressed the VFW convention as a candidate in 2008, criticized Republicans who are crying foul over scheduled automatic cuts to defense spending, part of a debt-reduction compromise reached last year. 
Related: Romney calls for halt to defense cuts
He pointed out that the debt deal had bipartisan support when it passed in August 2011.

"There are a number of Republicans in Congress who don't want you to know that they voted for these cuts. Now, they're trying to wriggle out of what they agreed to do," he said.
"Let's stop playing politics with our military," he added, even as he took a political turn himself, claiming Republicans would risk defense cuts in order to cut taxes for the wealthiest Americans. 
While he did not mention his opponent by name, Obama did criticize some of the positions Romney, who addresses the VFW members Tuesday, has taken, suggesting they indicate the former Massachusetts governor's lack of foreign policy experience. 
As he described what he sees as his foreign policy accomplishments, including killing Osama bin Laden and ending the war in Iraq, Obama noted that "some," including Romney, "said that bringing our troops home last year was a mistake."
"Well, when you're commander in chief, you owe the troops a plan. You owe the country a plan," he continued.

The president also announced several new programs to help veterans, including one intended to reduce instances of falsifying military honors – an issue that recently came before the Supreme Court, which ruled that lying about military awards is not a crime.
"It may no longer be a crime for con artists to pass themselves off as heroes, but one thing is certain, it is contemptible. So this week, we will launch a new website, a living memorial, so the American people can see who's been awarded our nation's highest honors," he said.
While both Obama and Romney resumed trading campaign jabs Monday after pausing in light of the shooting in Aurora, Colo., the president honored the victims of the tragedy at the beginning of his remarks, calling out by name those who were members of the military. 
"Yesterday I was in Aurora with families whose loss is hard to imagine, with the wounded, who are fighting to recover, with a community and a military base in the midst of their grief," he said, adding that in the members of the VFW, "I see the same shining values, the virtues that make America great."