President Obama slapped North Korea with new economic sanctions Wednesday as punishment for launching a ballistic missile and doing "illicit" nuclear tests in defiance of international warnings.
"These actions are consistent with our longstanding commitment to apply sustained pressure on the North Korean regime," a White House statement read. "The U.S. and the global community will not tolerate North Korea's illicit nuclear and ballistic missile activities, and we will continue to impose costs on North Korea until it comes into compliance with its international obligations."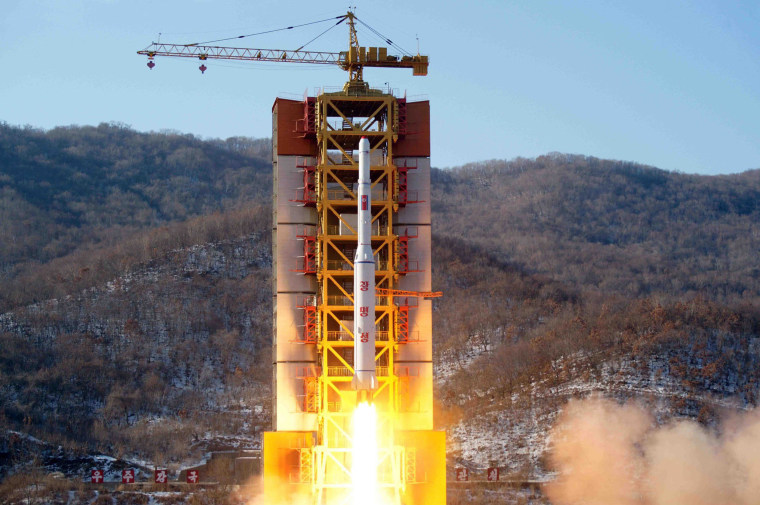 Obama's move came as Pyongyang's highest court sentenced a 21-year-old U.S. tourist to 15 years of hard labor for allegedly attempting to steal a propaganda banner from a restricted area of his hotel — a move Washington has denounced as politically motivated.
North Korea is banned by the United Nations from conducting missile and nuclear tests.
The U.S. hit the Pyongyang with new sanctions Wednesday as payback for defying the U.N. on Feb. 7 by launching a long range rocket "using ballistic missile technology."
Pyongyang insisted the rocket was carrying a satellite. But the South Koreans accused their communist neighbors of using the satellite as a cover story for testing a banned ballistic missile capable of carrying a nuclear warhead.
Meanwhile, the U.N. convened an emergency Security Council meeting and adopted its own stiff sanctions for the missile launch and for allegedly conducting a hydrogen bomb test in January.
North Korea's state-run KCNA news service said the Jan. 6 nuke test ordered by leader Kim Jong Un was a "total success."
"Heaven and earth are shaking because of this historic event," the newscaster declared.
But experts cast doubts on the North Korean claims. And a senior South Korean military official told NBC News that "we presume that it was not a hydrogen bomb test."