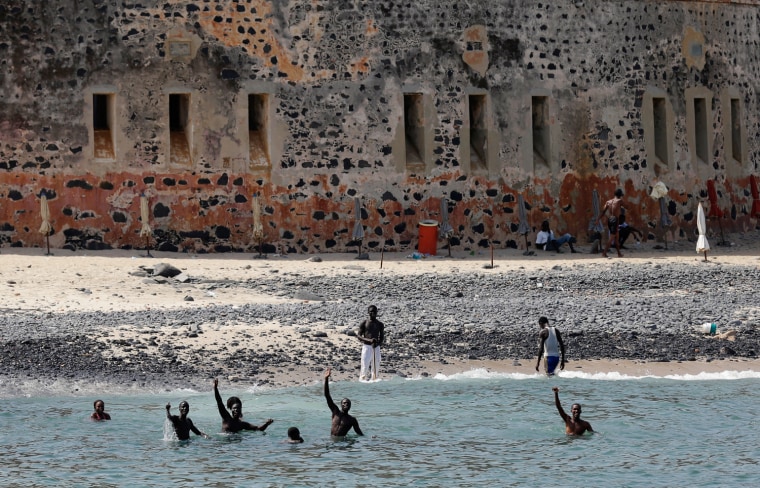 Barack Obama heads to Africa for his first extended trip to the continent on Wednesday -- a tour of three democratic nations that will offer a mix of cultural tourism and diplomacy.
After touching down in Senegal, the United States' first black president will visit the Maison des Esclaves (House of Slaves) on the island of Goree.
The island, known as Senegambia in the past, served as a strategic point for the brutal slave trade to the Americas. 
"His visit to the island will be incredibly symbolic," said Professor Ousmane Sene, a director at the West African Research Center in Dakar, the country's capital.
Promoting democracy will also be at the top of the administration's agenda when Obama meets Senegal's new president, Macky Sall, who came to power last year, Sene said.
"At one point there was a concern that the last president, Abdoulaye Wade, might not go if he was defeated," Sene said. "So I'm a sure his visit will stimulate and encourage civic values among the Senegalese people to keep us on the right track."
Neighboring Mali, where a 12,000 strong U.N. force will begin peacekeeping duties next month, will also likely be a talking point between the two leaders. Over the last 18 months, Islamist and Tuareg rebels launched a revolt and the military carried out a coup.
After the al Qaeda-linked Islamists seized the north of the country, 4,000 French troops arrived in mid-January to dislodge them at the request of military leader, Amadou Sanogo.
Sene said Senegal was seen as a good democratic role model for Mali, where elections take place next month.
"We are providing a great example of good governance, which is marketable in Mali and all over West Africa," he said. 
South Africa will be the next stop on the tour on Friday and Obama is expected to discuss the economic and political ties that link the two countries.
While the country is going through adifficult time due to the failing health of Nelson Mandela, Obama is expected to visit Robben Island, where the anti-apartheid leader spent 18 of his 27 years in prison.
It is unclear whether he will visit Mandela in the hospital.
Obama is also expected to give a speech to university students about U.S. policy on the continent, trade and investment.
Last, Obama will travel to Tanzania on the continent's east coast next Monday.  
There have been a series of bombings of opposition rallies in the north of country, but trade is likely to be top of the agenda.
American interest in Tanzania's untapped natural gas reserves will likely dominate the discussions, according to Adjoa Anyinadu, a research associate at British think tank Chatham House.
"(American companies) have been working hard to reach out to communities, but the Tanzanian authorities are not used to having to negotiate with them," she said.
"The government has also been really bad about messaging to the population that it [natural gas] is not an instant windfall and it's not going to come on tap for a few years."
One big unknown is whether Obama will bring up the case of a high-ranking Tanzanian diplomat, who was found guilty in 2008 of holding a 20-year-old woman called Zipora Mazengo against her will in his Bethseda, Md., home. 
She claimed that Alan Mzengi and his wife had beaten and taunted her while paying her nothing to work as a domestic servant and a district judge ordered him to pay her $1 million in compensation.
But he returned to Tanzania without paying a penny.  
A State Department official said last week they were "deeply disappointed that it has not yet been resolved."
"We have been engaging with the government of Tanzania at very senior levels to push for a just resolution of this matter," they added.
"Foreign diplomats in the United States are required to respect our laws and all governments are responsible for responding to this crime and holding their citizens accountable."
Their reluctance is particularly frustrating for officials because the U.S. government has committed $1.8 billion to Tanzania through the President's Emergency Plan For Aids Relief program since 2003.
Related: