by Laura MacInnis
Reuters
Eight of the world's most powerful people spent Friday night in the woods.
In a sort of VIP sleepover, G8 leaders bedded down in rustic cabins in rural Maryland, where the U.S. presidential retreat, Camp David, is hosting by far the largest international summit in its 70-year history.
President Barack Obama welcomed his peers from Britain, France, Germany, Italy, Japan, Russia and Canada to the verdant compound on Friday evening, describing the weather as "perfect" with clear skies visible through tall oak and poplar trees.
They dined together around a circular table in a lodge, shared a chocolate birthday cake for the Japanese prime minister and stayed up late chatting, according to aides who said several leaders went for strolls around the immaculately maintained grounds.
On Saturday morning, the American president took British Prime Minister David Cameron to the Camp David gym, where they chatted together on side-by-side treadmills. Several others took the chance to sit together on outdoor patios, far from the motorcades and press gaggles.
"Camp David has just got a special atmosphere to it," said Mike Froman, one of Obama's top international economic advisers, who said the laid back surroundings had yielded a series of "informal, unscripted, unplanned, spontaneous meetings."
"That is exactly what the president had in mind," he said.
The G8 summit was first set to be held in Chicago, where Obama will host a Sunday-Monday NATO summit, but the White House moved it to the isolated retreat 60 miles north of Washington to escape possible protests and give the talks what Obama called "a more casual backdrop."
Camp David, which opened in 1942, has traditionally been a place for U.S. presidents to relax with their families away from the tourists and media around the White House, and to host foreign dignitaries, typically one at a time.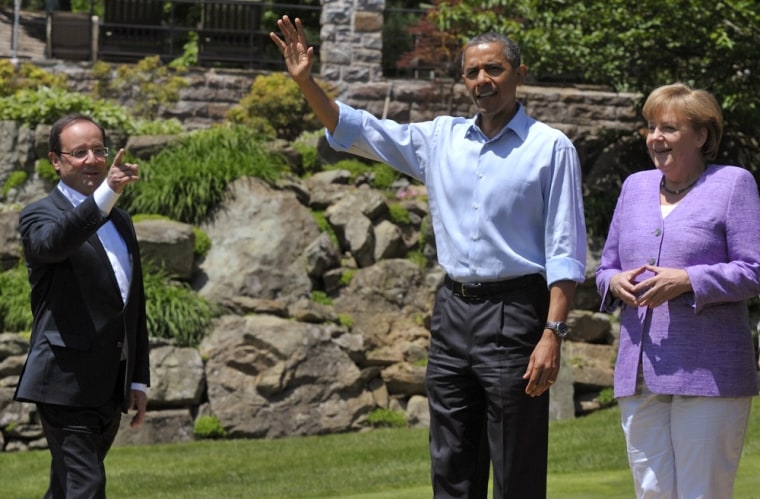 Its two prior summits included only a pair of visiting leaders at once. The first was Bill Clinton's peace talks with Israeli Prime Minister Ehud Barak and Palestinian Authority Chairman Yasser Arafat in 2000. The second was 1978 negotiations Jimmy Carter hosted between Israeli Prime Minister Menachem Begin and Egyptian President Anwar Sadat, which yielded the historic Camp David peace accords.
ADEQUATE ACCOMMODATIONS
Each of the G8 leaders had their own cabin at Camp David, but the White House admitted they were of different sizes and possibly less luxurious than many prime ministers and presidents may be accustomed to.
"The allocation system of course is classified. I really can't go into that," said Tom Donilon, Obama's top national security aide before the overnight summit.
Donilon twice used the word "adequate" to describe the facilities where German Chancellor Angela Merkel, British Prime Minister David Cameron, French President Francois Hollande, Italian Prime Minister Mario Monti, Canadian Prime Minister Stephen Harper, Russian Prime Minister Dmitry Medvedev and Japanese Prime Minister Yoshihiko Noda spent the night.
European Commission President Jose Manuel Barroso and European Council President Herman Van Rompuy also slept over at Camp David, and each leader could bring in at least one aide.
While Camp David is highly secure with modern communications, its decor is somewhat dated. Recent photos released by the White House have featured extensive wood paneling and plaid and vividly patterned upholstered furniture.
Before Friday, Obama had not hosted any foreign leader at Camp David and has spent less time there than his predecessor, George W. Bush, an outdoors man who often went to the Catoctin Mountain Park getaway for the weekend to ride his mountain bike.
Though Camp David boasts basketball and tennis courts, a swimming pool, and a putting green, sand traps and tees, Obama has preferred to spend his weekends closer to home. He often golfs at Andrews Air Force Base and shoots hoops with his daughters, Malia and Sasha, at a government building near the White House.
Friday marked Obama's 23rd visit to Camp David, and his first time there since October, according to CBS White House correspondent Mark Knoller who keeps records of presidential travel. At the same point in his presidency, Bush had gone to Camp David 81 times.
The G8 meetings took place in the dining room of Laurel Lodge, a dark green building surrounded by forest where the leaders ate together. The large cabin serves as the facility's business hub, with conference rooms and a small presidential office.