President Barack Obama rebuked African leaders who refused to give up power Tuesday, joking that he thought he was "pretty good" at his job and could win a third term if he were allowed to run.
In a speech to the African Union, he said those who did not step aside at the end of their time in office risked "instability and strife."
"I love my job," he told the assembled leaders in Ethiopia. "But under our Constitution, I cannot run again. I actually think I'm a pretty good president — I think if I ran, I could win — but I can't!"
He told them that, in the United States, "the law is the law — no one person is above the law, not even the president," adding wryly that he didn't understand why leaders didn't step aside "especially when they've got a lot of money."
Obama repeatedly praised Africa's "extraordinary progress" in his address, but did not shy away from criticizing those in the audience who failed to respect human rights, saying they "may have democracy in name, but not in substance."
"When we respect the freedom of others, we are all more free"
He called out the two host nations of his African trip, saying Ethiopia had done "much to be proud of" but "it will not fully unleash the potential of its people if journalists are restricted or legitimate opposition groups can't participate in the process."
Kenya, where his family lives, had made "remarkable gains" but they risked being "jeopardized by restrictions on civil society," he said. "Democracy is not just formal elections."
He also highlighted Burundi, where President Pierre Nkurunziza recently secured a third term amid violence. "When a leader tries to change the rules in the middle of the game just to stay in office, it risks instability and strife, as we've seen in Burundi," he said.
There were whistles of approval as he tackled the issue of corruption, and called on African countries to end the "bad tradition" of female genital mutilation and of child marriage.
"Every one of us is equal … and when we respect the freedom of others, we are all more free," he told the African leaders.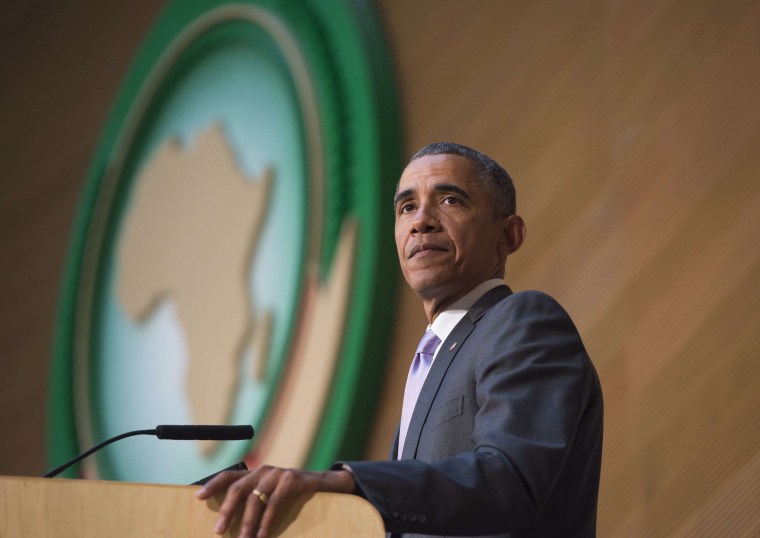 "I believe hearts can change and I believe hearts can open," he said, adding that that progress was not always made in a straight line.
He stressed that America was "not perfect" but said the existence of criticism and political opposition was "a source of strength."
Obama also said Africans had achieved independence from colonialism and apartheid "not just with rifles but with principles and ideas … and that's why I stand before you as the first African American president of the United States."
However, he said too many Africans still lived in "a level poverty that is an assault on human dignity" and called on leaders to do more to end what he called the "cancer of corruption."
"Corruption exists all over the world, including the United States," he admitted, but he told the leaders: "When someone has to pay a bribe just to start a business or to go to school or to get an official to do what they are supposed to be doing anyway, it undermines the dignity you are supposed to represent."
He also warned against crackdowns, saying: "By sacrificing liberty in the name of security we risk losing both."
At the start of his address, he described himself as a "proud American" but added: "I also stand before you as the son of an African. Africa and its people helped to shape America, and allowed it to become the great nation that it is."