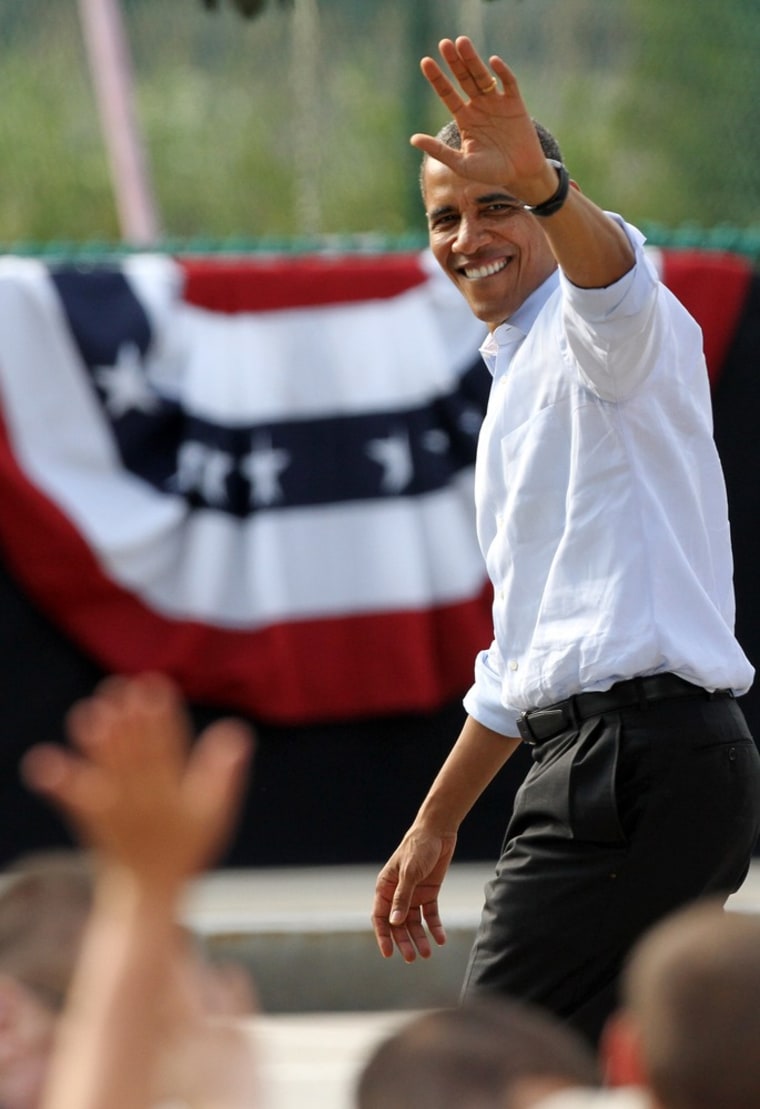 ROCHESTER, N.H. -- On the same day Republican vice presidential hopeful Paul Ryan defended his Medicare plan in front of a crowd of senior citizens in Florida, President Barack Obama blasted the GOP ticket for proposing to raise costs for the elderly while slashing taxes for the wealthiest Americans.
"Their plan makes seniors pay more so that they can give another tax cut to rich folks who don't need a tax cut," the president said of Republicans on Saturday in front of a crowd of more than 3,500 supporters here.
Since Ryan was tapped as Mitt Romney's running mate Aug. 10, Medicare has become one of the most contentious issues of the election because of the controversial Ryan budget that proposed dramatic changes to the government program.
Obama blasted Republicans for wanting to turn Medicare into a voucher system.
"Meanwhile Gov. Romney and Congressman Ryan want to give seniors a voucher to buy insurance on their own," the president said, citing an analysis that found the plan could cost seniors $6,400 extra each year.
"How many people think that's a good deal?  That doesn't strengthen Medicare, it undoes the very guarantee of Medicare," he said.  "But that's the core of the plan written by Congressman Ryan and endorsed by Gov. Romney."
The president's remarks in New Hampshire were largely a response to earlier attacks from the presumptive GOP nominee in his first installment of what will become a weekly podcast.
"I think it's outrageous that the president took $716 billion out of the Medicare trust fund to pay for Obamacare," Romney said.
And shortly after the podcast was released, Romney quickly got some backup from his newest teammate.  Ryan was joined by his 78-year-old mother at a rally in The Villages, Fla., the world's largest senior citizens community. "Here is what the president won't tell you about his Medicare plan—about Obamacare," Ryan told the crowd. "The president raids $716 billion from the Medicare program to pay for the Obamacare program."
And while the president was on the defensive regarding Medicare, he also continued to focus attention on tax rates. Throughout his stops in New Hampshire, he asserted that under Ryan's budget, Romney would pay less than 1 percent in taxes. 
"That's a pretty good deal, just paying 1 precent in taxes -- you're making millions of dollars. Here's the kicker, they expect you to pick up the tab," he told the crowd here.
This week Obama campaign manager Jim Messina sent a letter to his counterpart in the Romney campaign, stating Democrats would drop their calls for the former Massachusetts governor to release more tax returns if he made the past five years public.  Romney campaign manager Matt Rhoades quickly responded, calling the letter another attempt for the Obama campaign to distract from a failed economic record.
The Romney campaign was again quick to respond to the president's attacks Saturday, calling them false and another way for the campaign to avoid talking about the president's record. Romney spokesman Ryan Williams blasted out a response: "Following news that 44 out of 50 states saw their unemployment rates rise, it is not surprising the president is launching yet another false attack."
The Granite State will have more action to look forward to on Monday, when Romney and Ryan will appear together in Manchester for a town hall.