President Barack Obama traded in Air Force One for "Ground Force One" as he kicked off a two-day bus tour of lower-profile cities emphasizing college affordability heading into his showdown with Congress this fall over fiscal matters and the national debt.
Obama hopped aboard the presidential motorcoach at the outset of a tour of schools in New York and Pennsylvania, where he would talk about improving access to higher education – a pillar of his summertime series of speeches focused on the economy and middle class.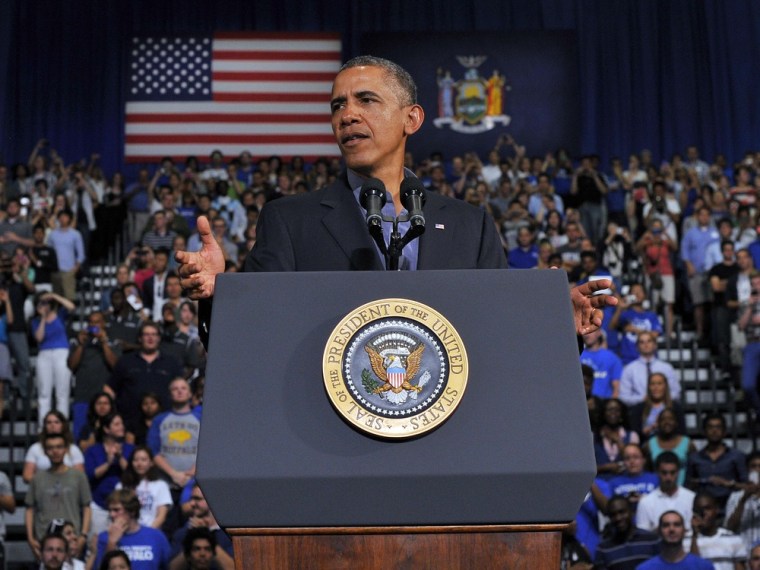 "We've got a crisis in terms of college affordability and student debt," Obama told students at the State University of New York at Buffalo, one of the four public schools catering to middle-class students at which he was set to speak in coming days. He asserted that the government has spent more money on prisons than colleges in recent decades, suggesting that the government's priorities have been misdirected.
The centerpiece of Obama's education plans was a proposed new ratings system that would allow prospective students to evaluate which schools provide the best educational bang for the buck. Congress, in turn, could then tie student aid to value, allowing students to maximize aid at schools that provide the best value. The White House said it hoped to publish these new ratings before the 2015 school year; Education Secretary Arne Duncan, who traveled with the president on Thursday, said the administration would "take our time" on the ratings. 
Obama's proposals also called for rewarding schools that maximize the use of technology in education, as well as easing the burden of student loans for recent graduates by capping loan payments at 10 percent of their income.
"We can't price the middle class, and everybody working to get into the middle class, out of an education," Obama said.
The president's tour first took him to the  on Thursday, and then Henninger High School in Syracuse, N.Y. On Friday, Obama will speak at the State University of New York at Binghamton before concluding the trip at Lackawanna College in Scranton, Pa. Vice President Joe Biden, who grew up in Scranton, is set to join Obama at Lackawanna, though his presence was in doubt following his son's recent hospitalization would affect those plans.
Perhaps the biggest driver of college students' uncertainty over how to pay for college involved whether the interest rates on their student loans would rise significantly this fall. Lawmakers only approved legislation settling the matter in the days leading up to their annual August recess.
The government had been heavily subsidizing student loans, and Obama had urged lawmakers to extend existing rates past their June 30 deadline, after which rates would have doubled from 3.4 percent to 6.8 percent.
But Congress failed to agree on how or whether to restructure the loans. Republicans had favored legislation tying student loan rates to the 10-year Treasury rate on top of a base rate; this would have effectively raised student loan rates in the short-term, though their proposal would have capped interest rates on student loans at 8.5 percent.
Democrats were unable to agree on an alternative proposal, though, meaning that student loan rates technically doubled for most of July. Lawmakers eventually brokered a deal reducing interest rates on undergraduate students' loans to 3.86 percent, retroactive to July 1. Going forward, interest rates will be pegged to the rate on 10-year Treasury notes, plus 2.05 percent, and is capped at 8.25 percent.
On Thursday and Friday, Obama spoke to that legislation – which he signed into law on Aug. 9 – and other college affordability measures. He called the student loan reforms a "good start" toward improving access to higher education upon which Congress could build by approving his reforms.
This week's speeches mark an effort by the president to speak to five pillars of economic growth – quality jobs, education, health care, retirement programs and homeownership – he first outlined at the beginning of the summer. The president's speeches have taken him across the country to speak, so far, to jobs and homeownership.