The Obama campaign questioned on Tuesday whether there were years in which Mitt Romney paid any taxes at all.
As part of its ongoing effort to press Romney into releasing additional tax records beyond his 2010 returns, the president's re-election team released a new TV ad this morning raising that very question.
"Romney admits that over the last two years he's paid less than 15 percent in taxes on $43 million in income," the ad says. "Makes you wonder if some years he paid any taxes at all."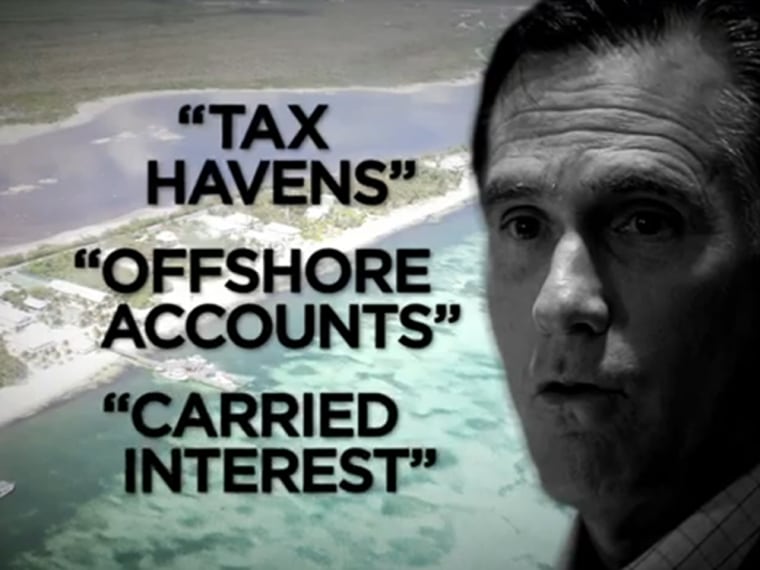 When asked today during an in-flight gaggle on Air Force One whether it was fair to make such a suggestion, traveling campaign press secretary Jen Psaki said the ad raises the question that "we won't know and it's not possible for anyone to know until he releases further years of tax returns and everybody is able to examine what is included in them."
During the gaggle, which took place as the president traveled to Texas for a second straight day of campaign events, Psaki was also asked about the president's ability to govern when he's spending most of this week on the road fundraising (with one day, Wednesday, at the White House).
"He can walk and chew gum at the same time," Psaki responded. "While he is campaigning he is reading briefing books, he is doing calls, he is having meetings with his advisers."
White House deputy press secretary Josh Earnest, also on the flight, also cleared up confusion about a moment at the United States vs. Brazil basketball game in downtown Washington last night, when the president and Mrs. Obama found the Verizon Center's "Kiss Cam" trained on them.
They did not kiss the first time they appeared on the Jumbotron, but during the second half of the game, the Kiss Cam found them once again and they obliged.
White House deputy press secretary Josh Earnest said today that the First Couple did not realize that they were supposed to smooch until halftime, when their daughters asked why they didn't kiss.
"I can tell you based on a very good source, reports that the president was rebuffed are false," Earnest said, adding that the two "did not recognize that their images were on the screen in conjunction with the kiss cam."
"So during Act Two of the kiss cam promotion the president took advantage to steal a kiss from his wife," Earnest continued.