Comparing the United States and Cuba to estranged brothers, President Obama said he was hopeful that the two countries will someday be fully reunited — and be free of a decades-old economic embargo — despite their long history of differences and disagreements.
"I have come here to bury the last remnant of the Cold War in the Americas," Obama said in an unprecedented speech to the people of Cuba, delivered at the El Gran Teatro de Havana and broadcast on the communist island nation's state-run television.
The live audience applauded, and when the ovation subsided, he added: "I have come here to extend the hand of friendship to the Cuban people."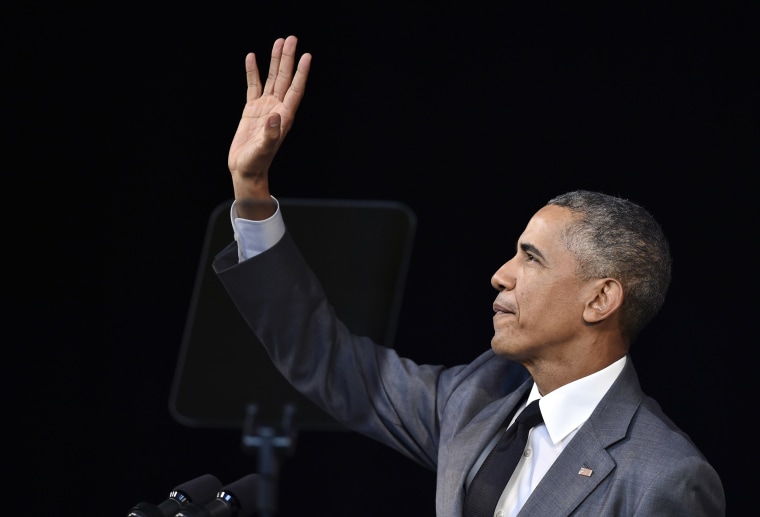 The president delivered the speech on the last day of a historic three-day visit to Cuba, where he has pressed the Castro regime to speed up economic reforms and improve its human rights record.
Obama's counterpart, Raul Castro, brother of former president Fidel Castro, has in turn said full normalization of relations with his country depends on Congress lifting the economic embargo and closing down a U.S. military prison in Guantanamo Bay. Raul Castro also said the United States should not criticize Cuba's human rights record when it has its own long history of racial and economic inequality — and its holding of terror suspects indefinitely at Guantanamo Bay.
Peppering his speech with Spanish phrases, Obama pointed out the two countries' many similarities, starting with their having been "built in part by slaves from Africa" and their many citizens who can trace their ancestry to slaves or slave owners. The two countries also share literary, artistic and musical crosscurrents, he said. And they share a national pastime in baseball.
Obama and Castro were scheduled to attend a baseball game between the Tampa Bay Rays and the Cuban national team later on Tuesday, a goodwill matchup that marked the first time in nearly 20 years that a Major League club has visited Cuba.
Related:Cuba Welcomes Obama for Historic Presidential Trip
One day, Obama said, "Our grandchildren will look back at this period of isolation as just an aberration."
But Obama also listed key issues that keep the Cuba and America apart: a one party political system versus multi-party democracy, a socialist-based economy versus capitalism, and the emphasis on the state's rights versus an emphasis on individual rights.
Related: Awkward Gesture Ends Obama News Conference in Cuba
He pointed out that America's own struggle over civil rights made it possible for him to ultimately become president. And in a reference to the Castro regime's crackdown on dissidents, Obama made it clear that he believed that an American system focused on individual liberties and the freedoms to criticize government belonged everywhere.
"Not everyone agrees with me on this. Not everyone agrees with American people on this. But I believe those human rights are universal," Obama said.
Despite those differences, Obama said, he and Castro have taken small steps toward normalizing relations, including loosening of travel bans and making it easier for people to open private businesses.
But the embargo — enacted after a 1959 communist revolution put Cuba on the side of the Soviets — still exists, and can't be lifted without the agreement of Congress, which has resisted such a move.
Addressing critics who've asked why he was pushing for changes now, Obama said: "There is one simple answer. What the U.S. was doing was not working. We have to have the courage to acknowledge that the policy of isolation designed for the Cold War made little sense in the 21st century. The embargo is only hurting the Cuban people instead of helping them."
He concluded: "It is time now for us to leave the past behind."