President Barack Obama marked the end of more than a decade of combat in Afghanistan by paying tribute to America's military, telling troops on Christmas Day that their sacrifices have allowed for a more peaceful, prosperous world to emerge out of the ashes of 9/11.
At an oceanfront Marine Corps base in Hawaii, Obama told troops the world as a whole is better off because American troops put country first and served with distinction. "Because of the extraordinary service of the men and women in the American armed forces, Afghanistan has a chance to rebuild its own country," Obama said to applause from Marines and their families. "We are safer. It's not going to be a source of terrorist attacks again."
The U.S. is shifting to a supporting role after the bloodiest year in Afghanistan since the 2001 U.S.-led invasion. Civilian casualties this year are on track to hit 10,000, and some 5,000 Afghan forces were also killed in 2014. Roughly 2,200 U.S. troops were killed in Afghanistan over the last 13 years in a war that cost the U.S. $1 trillion, plus another $100 billion for reconstruction.
A celebratory cheer of "hooah" rang out from the hundreds of troops here when Obama affirmed that the combat mission was finally ending. "We still have some very difficult missions around the world — including in Iraq," Obama said. But, he added, "the world is better, it's safer, it's more peaceful, it's more prosperous and our homeland protected because of you."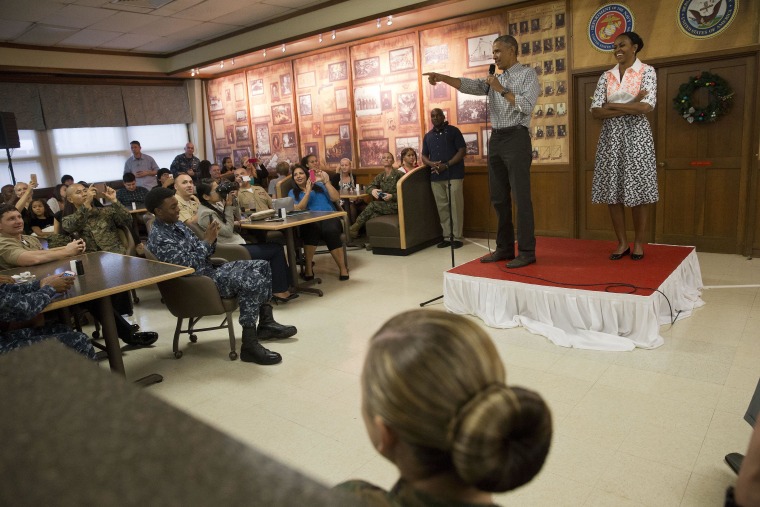 IN-DEPTH
— The Associated Press