IOWA CITY, Iowa -- President Obama appeared at his third "official event" in two days on Wednesday to promote extending student loan relief at an event that had the feel more of a campaign rally.
At the University of Iowa, the president voiced a message before a crowd of more than 4,000 centered on urging Congress to prevent the doubling of government-backed student loan interest rates in July.
"This is where I really need you guys, Congress needs to act right now to prevent interest rates on federal student loans from shooting up and shaking you down," Obama said to applause, imploring the students to turn up the heat on lawmakers.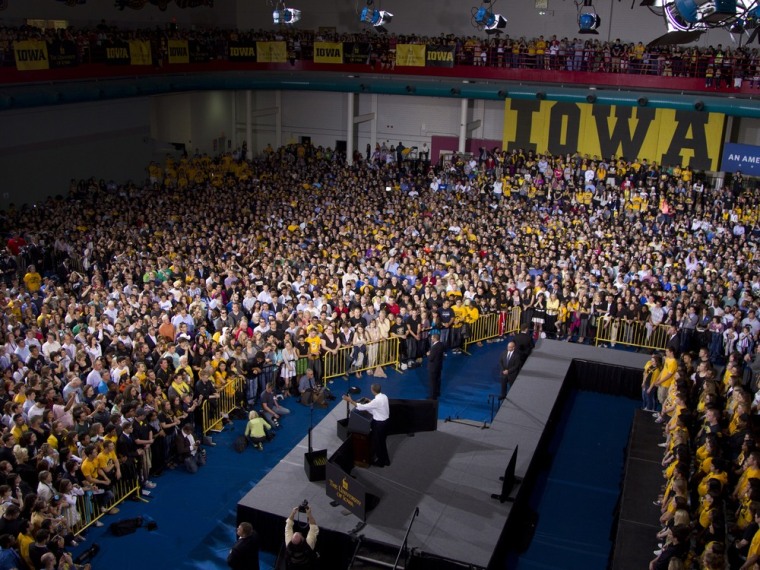 But the impasse on Capitol Hill doesn't stem from a debate over whether to maintain the current interest rate, but rather, how to pay for it. Extending the current interest rate for another year will cost about $6 billion, according to a White House aide. But the White House stresses they're committed to extending the rate without adding to the deficit.
Senate Majority Leader Harry Reid (D-NV) introduced a bill on Wednesday to continue the lower interest rate, which the President said was "good news." However, the bill is financed by closing a payroll tax loophole for a certain type of business, something Republicans may not support.
Senate Minority Leader Mitch McConnell was dismissive of Reid's bill, as well as the president's college tour.
"If the president was more interested in solving this problem than in hearing the sound of his own voice or the applause of college students, all he'd have to do is pick up the phone and work it out with congress. We don't want the interest rates on these loans to double in this economy," he said.
The Republican leader continued: "The only reason Democrats proposed this solution to the problem is to get Republicans to oppose it and make us cast a vote they think will make us look bad to voters they need to win in the next election."
But Obama pushed back at Congress with his own snarky rhetoric, saying that if Republicans think he's talking about student loans to distract from the economy then, "These guys don't get it. This is the economy...What economy are they talking about?"
According to the College Board, In 2010-11, 7.8 million undergraduate students took out subsidized Stafford loans to help pay for their college education. Many of them would see about $1,000 added, on average, to the cost of their loan over its lifetime if rates were to increase.