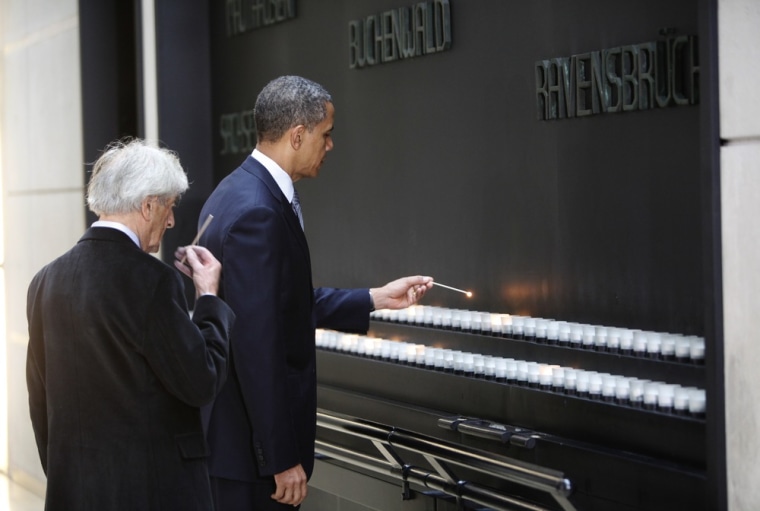 President Barack Obama unveiled sanctions on Monday against those who help Syria and Iran track dissidents through cell phones and computers and said he would keep adding pressure on both governments to prevent mass atrocities.
In a somber speech at the United States Holocaust Memorial Museum, Obama said Damascus and Tehran were monitoring the social media tools that allowed democracy campaigners to organize rallies in the Middle East to plot attacks against opposition groups.
"These technologies should be in place to empower citizens, not to repress them," he said, announcing new asset freezes and visa restrictions against Syrian and Iranian agencies as well as those helping them access surveillance used to plan violence.
Obama, a Democrat, is under election-year pressure to do more to prevent Iran from acquiring a nuclear weapon and stop Syrian President Bashar Assad from waging attacks that have killed more than 9,000 people over the past year.
"We will keep increasing the pressure for the diplomatic effort to further isolate Assad and his regime," he told the audience of about 250 people, including Holocaust survivors, government officials and diplomats.
But Nobel Peace Prize winner Elie Wiesel, in pointed remarks introducing the president, warned it may be "almost too late" to stop their abuses.
Obama, who is up for re-election on Nov. 6, stressed that Washington was committed to keeping Iran from getting a nuclear weapon - a major worry of Israeli Prime Minister Benjamin Netanyahu as well as many Jewish voters in the United States.
"When faced with a regime that threatens global security and denies the Holocaust and threatens to destroy Israel, the United States will do everything in our power to prevent Iran from getting a nuclear weapon," he said.
'Preventive measures'
Holocaust survivor and author Wiesel flagged Iranian President Mahmoud Ahmadinejad's past comments casting doubt on the World War II mass killings of Jews as a reason to take the nuclear threat seriously.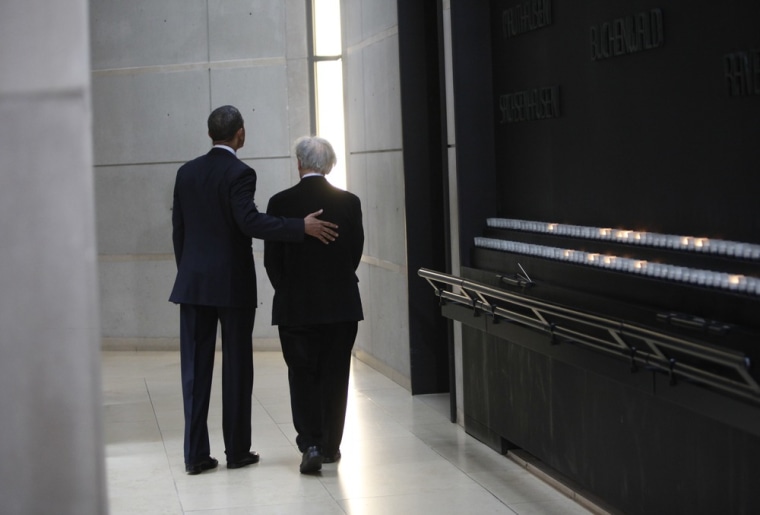 "In this place we may ask, "Have we learned anything?" Wiesel said in the museum that details the rise of Nazi Germany and depicts scenes from concentration camps, including the hair, shoes and suitcases of victims.
"How is it Assad is still in power? How is it that the Holocaust's number one denier, Ahmadinejad, is still a president?" he said. "We must know that when evil has power it is almost too late. Preventive measures are important. We must use those measures to prevent another catastrophe."
Mitt Romney, the most likely Republican nominee for the White House race, has criticized Obama's approach to Tehran as too conciliatory and said he would not allow Iran to get a nuclear weapon if he were elected president.
The executive order that Obama signed on Sunday freezes U.S. assets linked to those aiding satellite, computer and phone network monitoring in Syria as well as Iran, where Washington believes authorities are targeting opposition members.
It cites the Syrian General Intelligence Directorate, the Syrian cell phone company Syriatel, Iran's Ministry of Intelligence and Security, Iran's Islamic Revolutionary Guard Corps, Iran's Law Enforcement Forces and the Iranian Internet provider Datak Telecom, as well as a number of individuals.
Only Datak wasn't already subject to U.S. sanctions. According to the Treasury Department, Datak collaborated with the Iranian government to monitor and track Internet users, and provided information on individuals who tried to circumvent the government's blocks on Internet content.
In a video message to Iranians last month to mark the Persian New Year, Obama accused Iran of imposing an "electronic curtain" on its citizens and promised new U.S. steps aimed at helping ease the Iranian people's access to the Internet and social media.
'Organized crimes'
The new measures could later be broadened to include other agencies, companies and individuals.
Reuters reported in March that China's ZTE Corp. sold Iran's largest telecoms provider, Telecommunication Co. of Iran (TCI), a powerful surveillance system capable of monitoring landline, mobile and Internet communications as part of a contract signed in December 2010. ZTE said it would curtail its business in Iran.
George Lopez, a University of Notre Dame peace studies professor, said the measures announced on Monday were a step toward disrupting the Iranian and Syrian governments' ability to plan and wage attacks that could be replicated elsewhere.
"Because mass atrocities are organized crimes, crippling the means to organize and sustain them — money, communications networks, and other resources — can disrupt their execution," he said in response to the president's announcement.
Obama has been emphasizing the potential for a diplomatic resolution to Iranian and Syrian crises while trying to add pressure on both governments through tightened sanctions. A large part of his 2008 election platform was a promise to wind down U.S. military engagement overseas in Iraq and Afghanistan.
On Monday, he also promised to extend the presence of U.S. military advisers in Central Africa helping Uganda and its neighbors pursue the Lord's Resistance Army, and said he would give the Presidential Medal of Freedom to Jan Karski, a Polish Catholic who worked as an emissary during the Second World War.
More world news from msnbc.com and NBC News:
Follow us on Twitter: @msnbc_world