President Barack Obama on Monday announced the lifting of a longstanding arms embargo on Vietnam, part of his pivot towards Asia and the latest warming of relations with America's one-time foe.
Obama made the historic announcement at a press conference in Hanoi with Vietnam's President Tran Dai Quang — his first visit to the country.
"The United States is fully lifting the ban on sale of military equipment to Vietnam that's been in place for some 50 years," Obama said. "Sales will need to still meet strict requirements, including those on human rights, but this change ensures Vietnam has access to equipment it needs to defend itself."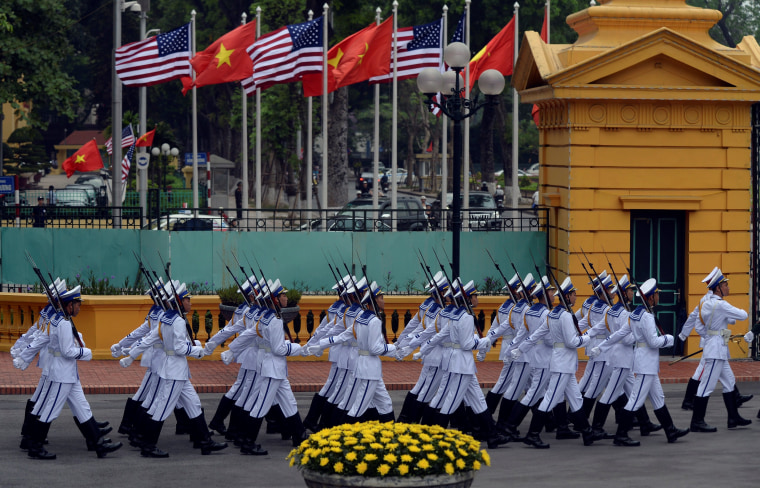 Quang welcomed the announcement, saying his country "appreciates" the move. He hailed Obama's visit as a "crucial milestone" and expressed gratitude for the end of a "painful chapter."
Lifting the arms embargo — one of the last major vestiges of the Vietnam War era — is expected to anger China.
Related: Will Stronger U.S. Ties Test Vietnam's Relationship With China?
Beijing's relationship with Vietnam has been strained by China's moves in the disputed South China Sea.
Washington has found common cause with its once-rival Vietnam in opposing China's expansive nine-dash line — a geographic delineation by China that claims most of the South China Sea. It has also provided Vietnam with five fast patrol vessels in order to enhance "maritime security."
Obama said Monday the decision to lift the embargo was not based on relations with China but rather part of the normalization of relations with Vietnam.
Washington partially lifted the arms embargo in 2014, but Vietnam was pushing for a full lift as it grapples with China's land reclamation and military construction in the disputed South China Sea.
U.S. lawmakers and activists had urged Obama to press for greater human rights freedoms before lifting the embargo.
Obama and the Vietnamese president earlier attended a signing ceremony celebrating a series of new commercial deals between American and Vietnamese companies, with the White House putting the value of the transactions at more than $16 billion.
The White House on Monday said relations between the two nations were "at a historic high," noting that engaging with South Asian countries is a "central pillar" of Obama's "rebalance" toward Asia.
"The president's visit to Vietnam builds on this positive momentum to cement the progress of the last few years and propel our bilateral relationship to the next level," it said in a statement.