TOKYO — The Japanese government resumed controversial construction work to relocate a key U.S. airbase in Okinawa on Thursday, with elderly protesters who tried to stop the project being dragged away by police.
Some residents oppose the plan to move the U.S. Marines' Futenma base to another location on the island. The government earlier this month overruled local Governor Takeshi Onaga's decision to rescind permission to build on the new site that had been approved by his predecessor.
Outside the gates of the construction site and on a flotilla, more than 200 protesters gathered to condemn the move. They say it will damage the environment. Okinawa was also site of bloody battles near the end of World War Two which left almost 100,000 civilians dead, and many locals resent hosting the U.S. military at all.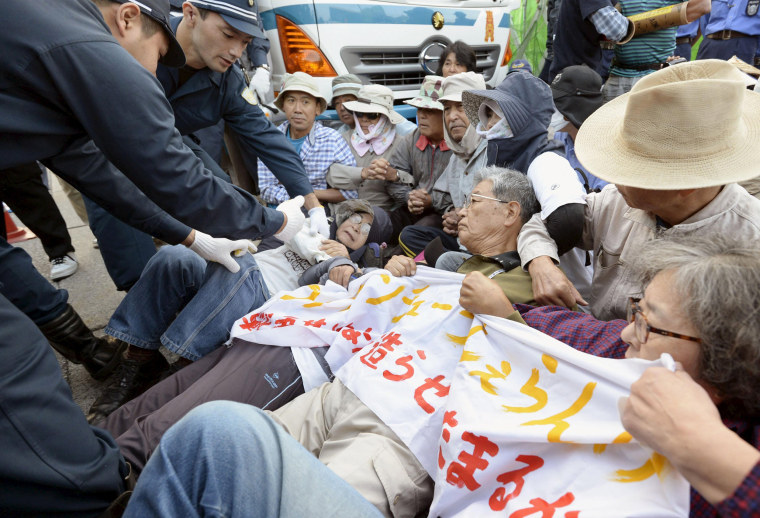 Despite the war scars, the island currently hosts 75 percent of all U.S. military installations in Japan.
"The fact that they forcibly executed this construction, there is nothing but anger," Takashi Kishimoto from the Okinawa Peace Movement Center who spoke to NBC News via cellphone from a protest boat. "We are outraged at these political tactics which ignore will of the people."
Reuters reported that dozens of demonstrators gathered early Thursday to block the way for construction trucks and bulldozers, before police dragged them away.
One elderly woman with a cane yelled "Put me down!" as she was hauled off in a chair. "What are you doing?" another white-haired woman shouted at police. "Aren't you supposed to be protecting citizens?"
At the heart of the controversy is the decision from almost two decades ago to shut down the Futenma Air Station, which is located in a densely-populated district on the island.
It was once described by former Defense Secretary Donald Rumsfield as "the world's most dangerous base" because of its proximity to schools and homes. The United States and Japan agreed in 1996 to close Futenma.
"This feels like an act of tyranny"
After years of searching for an alternative location, a pristine section of Ooura Bay off of the U.S. military's Camp Schwab in the less populated Henoko dstrict of Nago city was identified as a substitute site.
The mayor of Nago and the central government in Tokyo reached an agreement in 2006 to build two airstrips on reclaimed land.
However, Nago's current mayor has anti-base views. Okinawans also voted out the incumbent Hirokazu Nakaima, who gave the green light to the base's relocation, when they elected Onaga as governor.
But amid concern about China's increasingly assertive territorial claims, Prime Minister Shinzo Abe's ruling coalition government earlier this year passed a set of new security-related bills aimed at strengthening U.S. and Japan's defense alliance.
Government spokesman and Deputy Chief Cabinet Scretary Hiroshige Seko said moving the base was intended to "remove the residents fear of potential accidents as well as noise pollution."
Seko added: "They can see with their eyes that we are moving forward with reducing the presence of these bases on the island."
Speaking to reporters after construction work resumed on Thursday, Gov. Onaga said: "This feels like an act of tyranny and it's extremely unfortunate." Onaga previously said the government's decision to overturn his ruling "tramples on the will of the Okinawan people."
Protester Kishimoto vowed that the demonstrations would continue.
"We will by no means allow any more construction of new bases," he said. "We will not let them dirty this beautiful Ooura Bay."