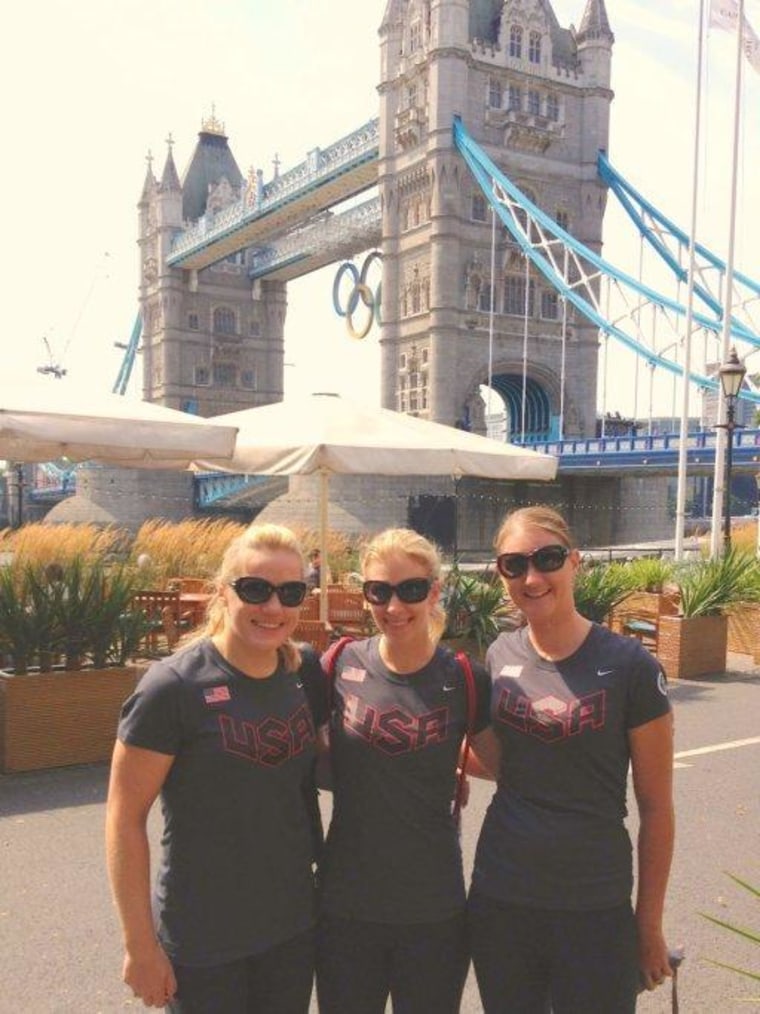 LONDON – Posing for photos in front of Tower Bridge and buying souvenirs on the sidewalks, they could be any other tourists among the summer crowds. But with most London 2012 events now over, it's the turn of the world's greatest athletes to be awe-struck as they turn up at visitor attractions across the city.
Rebecca Soni, American gold medalist and winner of the 200m breaststroke, took a trip on the London Eye with fellow swimmers on Saturday, while double-gold winning gymnast Gabby Douglas went sightseeing on Wednesday, according to ESPN.
"Go USA!" shouted an onlooker as three of the U.S.'s four track cycling silver medalists -- Lauren Tamayo, Jennie Reed and Sarah Hammer -- took a tour of the Tower of London with NBCNews.com on Saturday.
"It's great to get out and see a bit of London," said Reed, from Seattle. "Tower Bridge is stunning -- it's incredible to have seen it on the TV so many times and now to see it up close."
The trio was greeted at the 11th century royal fortress by a Yeoman Warder in traditional dress, and saw the Crown Jewels during their walk-through.
"It was incredible," said Hammer. "We also saw the room where they used to keep all the exotic animals like lions and polar bears."
Apart from a few admiring glances, the women moved largely un-noticed through tourist crowds outside the Tower, where Reed stopped to buy some art on the sidewalk.
Olympic jokers: Queen has 'a laugh,' empires compete
"For the first week we in the bubble of the village and didn't really go out at all," said Tamayo. "It's easy to forget that you now need to take all your personal things again. When I went out I realized I was on the Tube and didn't have any credit cards or ID on me except my accreditation."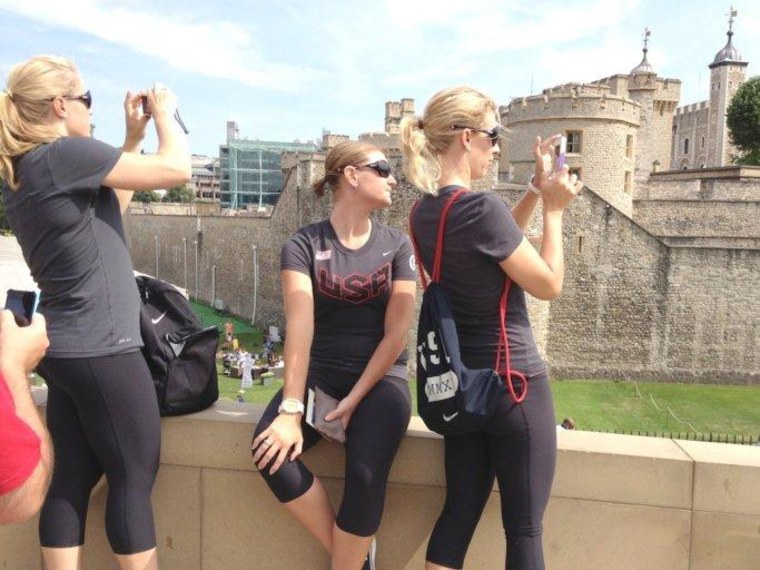 The women plan to visit Borough Market to buy gifts and specialty foods before leaving London with their teammates on Monday.
As well as turning tourist in London, the entire U.S. Olympic team has been giving back to the host nation by donating $157 per gold medal won at the Games to local sports and recreation charity Kids Company as part of Thank You Britain campaign.
Fans: Day at Olympics well worth $1,000 for family of 4
Reed said the athletes had much to be thankful for, including the Olympic Village.
"The accommodation has been great and the food probably the best of any Games I've been to," she said.
Hammer described the atmosphere inside the Village, where their shared apartment overlooks part of the Olympic Park.
"Sometimes we have been watching events on TV and when you turn the sound down you can actually listen out the window and hear the same crowd noise for real -- it's incredible," she said.
Their verdict on London? "It's very busy -- I'm amazed that people here are describing this as quieter than usual -- and the atmosphere is great," said Tamayo.
"It's easy to forget that these world class athletes are tourists, too, and most are now enjoying all that Britain offers," said Mark Di-Toro, a spokesman for tourism agency Visit Britain. "When the athletes leave is when our work really begins to create a sustained and positive tourism legacy."
More world stories from NBC News: