The U.S., Britain, France, Australia and other countries are shattering records for daily reported coronavirus cases as the highly transmissible omicron variant of the coronavirus has upended hopes of a return to some version of normality in parts of the world.
"Right now, delta and omicron are twin threats that are driving up cases to record numbers, which again is leading to spikes in hospitalizations and deaths," Tedros Adhanom Ghebreyesus, the director-general of the World Health Organization, said at a news conference Wednesday. 
"Omicron is moving so quickly," he said, warning that he feared that the new variant risked causing a "tsunami of cases" that would only further strain health care systems around the world.  
Covid, he said, "will continue to evolve and threaten our health system if we don't improve the collective response."
The WHO marked two years since it was first alerted to an outbreak of an illness in Wuhan, China, that would eventually come to be known as Covid-19.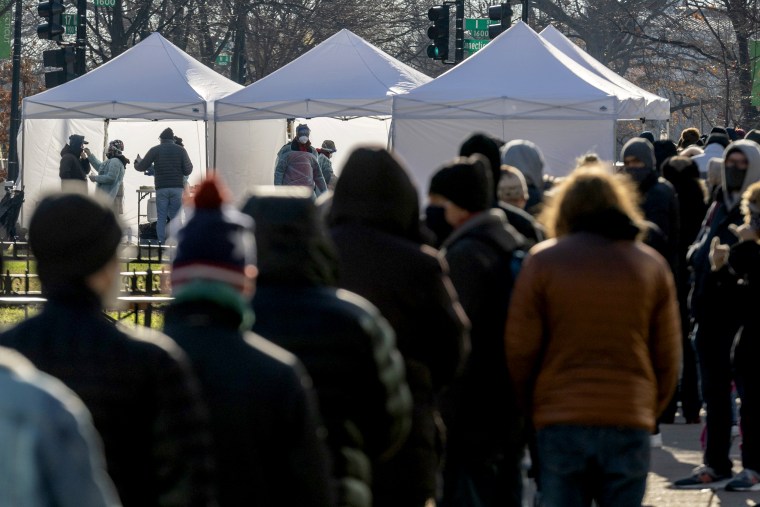 The U.S. hit a seven-day average of 262,034 cases Tuesday, eclipsing the record of 252,776, which was set Jan. 11, according to an NBC News data analysis. (The data can be skewed by days with anomalous data entries, which are common around the holiday period.)
In all, 1.8 million cases were reported in the U.S. last week, a 69.3 percent increase from the week before.
According to the Centers for Disease Control and Prevention, the omicron variant accounted for 58.6 percent of all Covid cases in the U.S. in the week that ended Saturday, while the delta variant accounted for 41.1 percent of cases.
The omicron variant appeared to make up a lower share of cases than expected — the CDC also lowered its estimates for the week that ended Dec. 18, from 73 percent of cases having been caused by the omicron variant to 23 percent.
Meanwhile, the WHO said Tuesday that the number of Covid cases recorded worldwide increased by 11 percent last week compared to the previous week, with the biggest increase in the Americas.
The WHO, the U.N. health agency, said nearly 4.99 million new cases were reported around the world from Dec. 20 to Sunday.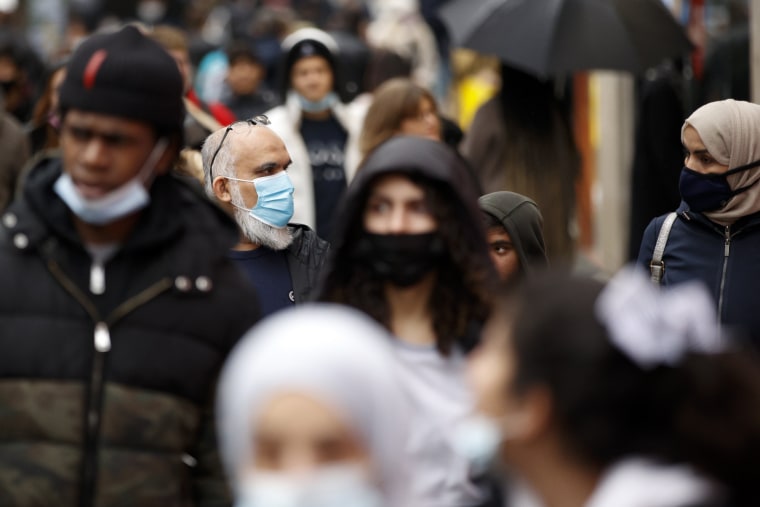 It said early data from Britain, South Africa and Denmark suggested that there was "a reduced risk of hospitalization for the omicron compared to the delta variant," although it stressed that further data were needed.
The U.K. also reported record numbers Tuesday, recording 129,471 new cases, the most yet. The data were not complete, however, as they did not include figures for Scotland and Northern Ireland because of differences in reporting practices over the holiday period.
Despite the rise in cases, British Prime Minister Boris Johnson has said he will not introduce further coronavirus restrictions in England before the new year.
Meanwhile, France, Portugal and Greece all reported record numbers.
France's health minister, Dr. Olivier Véran, said Wednesday that France would report 208,000 new Covid infections over the previous 24 hours, breaking the record that was set Tuesday, 179,807.
He said that every second, about two French people have been testing positive for Covid.
Portugal reported a record 17,172 cases Tuesday. Government data showed that the omicron variant already represented 61.5 percent of all new cases in the country, which has one of the highest vaccination rates in the world. Around 87 percent of the population has been fully vaccinated.
Greece also had its highest number of daily cases, with 21,657 identified Tuesday, according to the Johns Hopkins University tracker.
Australian Prime Minister Scott Morrison has called for a "gear change" as almost 18,300 new daily infections were recorded Tuesday, far surpassing the previous high of around 11,300.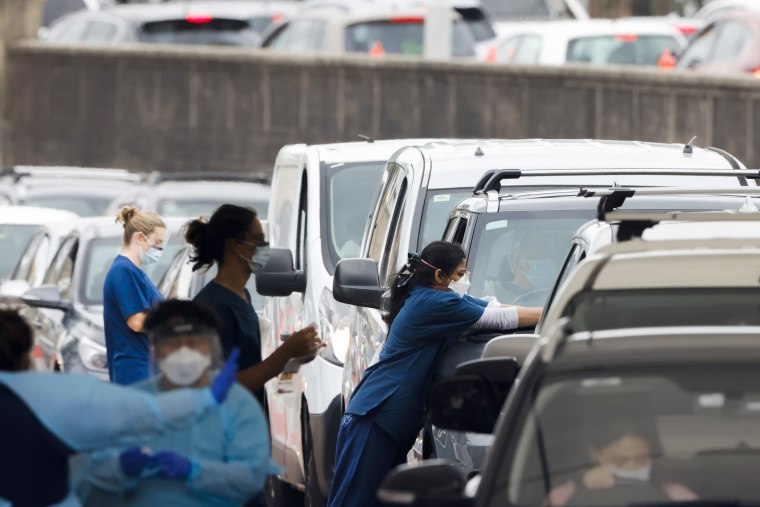 Morrison called a snap meeting of the national Cabinet for Thursday to examine what changes could be made to lessen the strain on testing laboratories and get people out of isolation faster.
"We just can't have everybody just being taken out of circulation because they just happen to be at a particular place at a particular time," he said in a news briefing Wednesday.
Under his plan, clinically urgent cases would be prioritized to cut waiting times for tests and lab results, with PCR tests required only for people with symptoms.
A number of countries, including the U.S. and the U.K., have shortened isolation periods for people who test positive.
The CDC updated its isolation guidance Monday to allow those who have tested positive for Covid but have no symptoms to isolate for five days, down from the previous recommendation of 10 days.
Meanwhile, the U.K. government reduced isolation times for people with Covid, allowing those who have tested positive to leave self-isolation after seven days, instead of 10, if they have received two negative lateral flow test results.