One person was killed and 25 were injured in an earthquake on the popular Italian tourist island of Ischia on Monday night, authorities said.
Citing an official with Italy's Protection Department, Giovanni Vittozzi, the Associated Press reported that a woman died after she was hit by falling masonry from a church.
Local media reported that 25 people were taken to a hospital and 10 people were missing, according to Reuters.
The U.S. Geological Survey and European-Mediterranean Seismological Center put the temblor's magnitude at at 4.3, while Italy's National Institute of Geophysics and Volcanology revised its preliminary measurement of 3.6 up to 4.0.
Ischia is in the Tyrrhenian Sea, just west of Naples.
In the small town of Casamicciola, on the island's northern coast, six buildings and a church collapsed after the quake struck just before 9 p.m. (3 p.m. ET), Reuters reported.
"I am seeing several people under the rubble," a resident there, Raimondo Giusto, told RAI NEWS 24.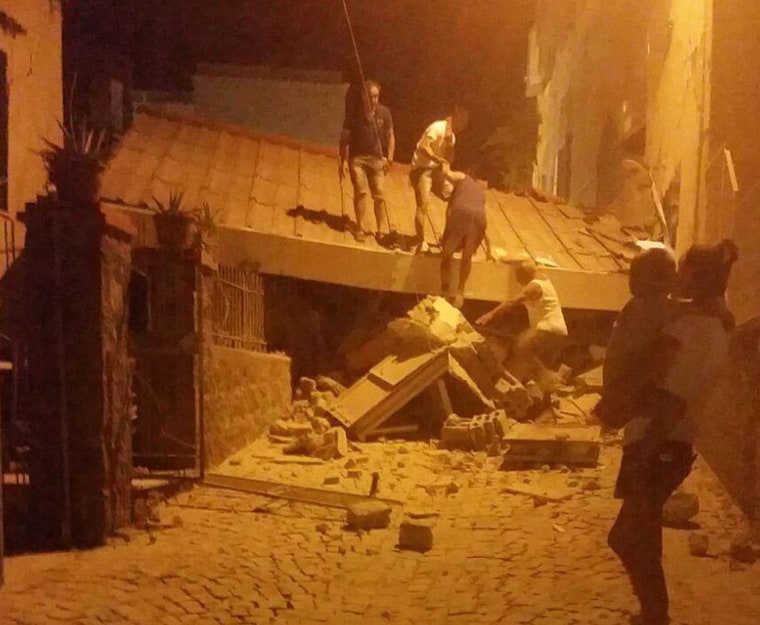 A Dutch tourist, Tessa de Mönnink, told NBC News that she was at a restaurant in the village of Sant'Angelo when the room began to shake, then went dark.
It was "like something I've never heard before," she said.
The quake lasted 30 seconds, she added, and after two minutes the power returned.
Italy has suffered more than its share of devastating quakes. Nearly a year ago, it experienced one of its worst, when a 6.3 magnitude temblor killed almost 300 people and destroyed the ancient town of Amatrice.