At least one person was killed and eight others were injured in demonstrations in Cairo after a court on Saturday dismissed murder charges against former President Hosni Mubarak, a government source told NBC News. The former leader had been arrested in connection with the killing of hundreds of protesters in the 2011 uprising that ended his rule.
More than 40 people were arrested, and demonstrators were dispersed, the source said. The clashes in Cairo came after the court cited the "inadmissibility" of the case due to a technicality. The Saturday ruling marks another major setback for the young activists who spearheaded the Arab Spring-inspired uprising nearly four years ago — many of whom are now in jail or have withdrawn from politics. It will also likely reinforce the perception that Mubarak's autocratic state remains in place, albeit led by a new president, former military chief Abdel-Fattah el-Sissi.
Nearly 900 protesters were killed in the 18-day uprising that ended when Mubarak stepped down on Feb. 11, handing over power to the military. The trial, however, was concerned only with the killing of 239 protesters, whose names were cited in the charges sheet.
Saturday's verdict concludes Mubarak's retrial along with his two sons, his security chief and six top security commanders, who were all acquitted. Also acquitted was businessman Hussein Salem, a longtime Mubarak friend tried in absentia. Mubarak, 86, was also acquitted of corruption charges that he faced along with his sons Alaa and Gamal. All rulings can be appealed.
It was not immediately clear whether Mubarak would now walk free since he is serving a three-year jail term for corruption charges he was convicted of in May. He has been in detention since April 2011, but it is unclear if the past 3 1/2 years will be considered as time served. "There is no justice for the poor," said Ramadan Ahmed, whose son Mohammed was shot dead in the Mediterranean port city of Alexandria during the uprising. "This is Mubarak's law!"
Mubarak was convicted and sentenced to life in prison in 2012 on charges related to the killing of protesters, but the verdict was overturned on appeal the following year. Mubarak has spent virtually all the time since he was detained in hospitals due to poor health. On Saturday, he was brought to the defendants' cage on a gurney. He wore dark glasses, a navy blue tie and a matching cardigan.
Presiding judge Mahmoud al-Rashidi made clear that the dismissal of the charges did not absolve Mubarak of the corruption and "feebleness" of the latter years of his 29-year rule and praised the 2011 uprising, saying that its goals — freedom, bread and social justice — were legitimate.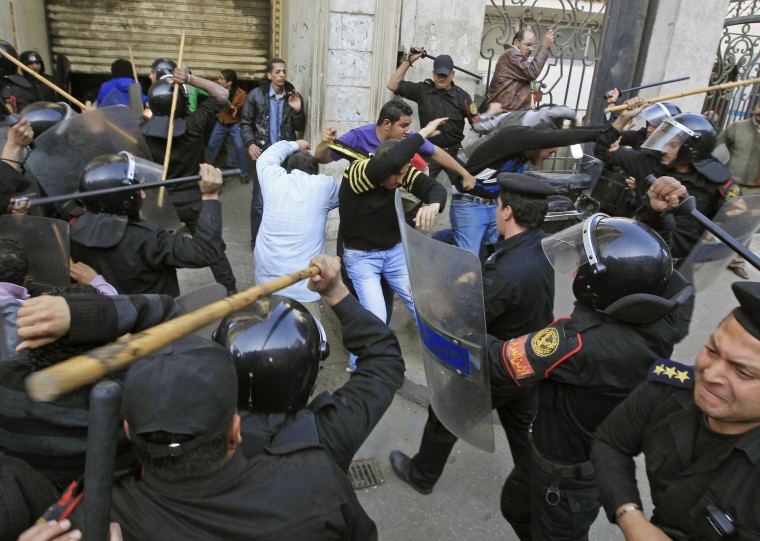 IN-DEPTH
— Charlene Gubash, with The Associated Press