Two people, including a 10-year-old girl, were killed after a gunman opened fire while walking down a busy street in Toronto on Sunday night.
Fifteen people plus the shooter were struck in what police described as an "exchange of gunfire." The culprit was later also confirmed dead.
The shooting was reported at about 10 p.m. ET in the Greektown neighborhood of Canada's largest city.
At a news conference on Monday, Toronto Police Chief Mark Saunders confirmed that two people had died of their injuries — a 10-year-old girl from the greater Ontario area and an 18-year-old woman from Toronto.
The 18-year-old was identified by an Ontario politician as Reese Fallon. Fallon was "smart, passion and full of energy," said the politician, Nathaniel Erskine-Smith, a member of the House of Commons. "It is a huge loss."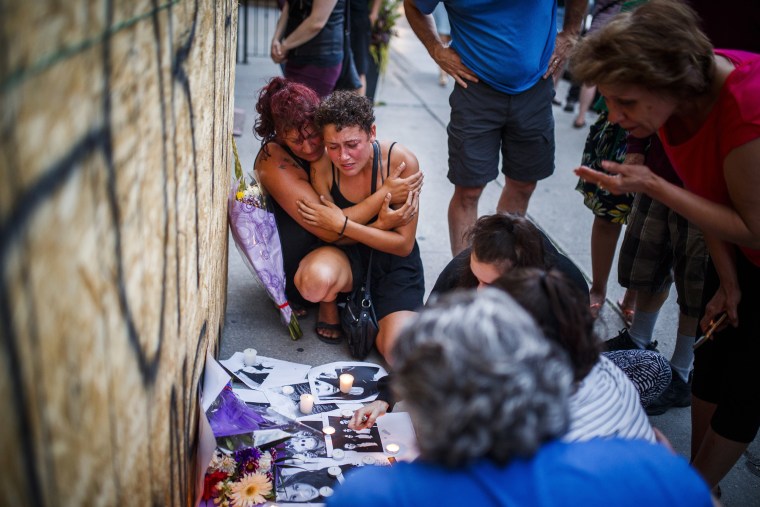 Saunders said 13 other people, ranging in age from 17 to 59, were also shot. Their family members have been notified, he said.
He added that authorities "do not know why this has happened," and that the "investigation itself is very fluid."
The suspect, identified by police on Monday afternoon as 29-year-old Faisal Hussain, fired shots at groups of people several times while walking along Danforth Avenue, the agency that investigates police-involved shootings said Monday.
He was armed with a handgun and an "exchange of fire" took place after officers located him, officials said. He was subsequently found dead nearby.
"I know that it could have been worse," Saunders said.
Hussain was not on any U.S. watchlist prior to the shooting, four senior law enforcement officials told NBC News. They also said Hussain did not seem to have much of a social media presence, if any.
Saunders said the act was not random, but added that investigators were not ruling anything out, including terrorism. Authorities were seeking judicial approval to research his residence.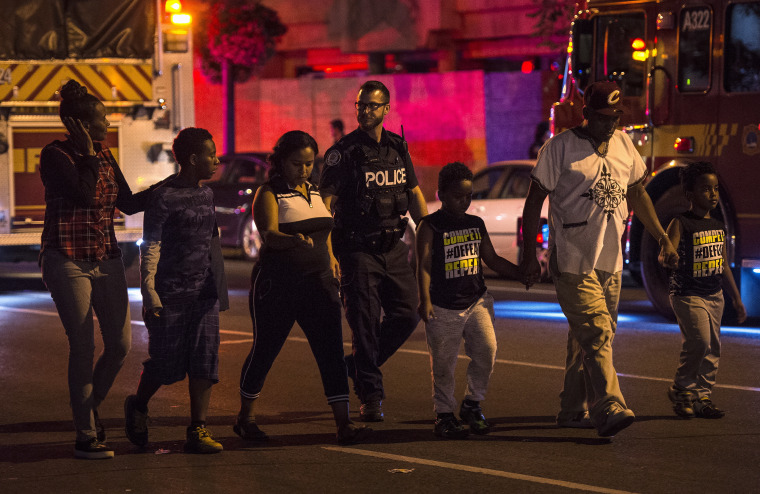 In a statement to Canadian media, Hussain's family said he had long suffered from "severe mental health challenges," including pyschosis and depression.
"The interventions of professionals were unsuccessful," the statement said. "Medications and therapy were unable to treat him. While we did our best to seek help for him throughout his life of struggle and pain, we could never imagine that this would be his devastating and destructive end."
"Our hearts are in pieces for the victims and for our city," the statement added.
Aamir Sukhera told CTV News Channel he was a lifelong friend of the alleged gunman. Sukhera described Hussain as "polite, respectful, humble, quiet" and said he "seemed fine."
"When I heard this is what happened, I can't put two and two together," Sukhera said. "I can't believe it's him."
Greektown is centered on Danforth Avenue, one of Toronto's busiest thoroughfares. It features many restaurants, as well as housing on its side streets.
Stavy Karnouskou told the Toronto Star she was standing with a few friends outside a bar and "heard 'pop, pop,'" adding: "I turned because I thought it was fireworks … and then the mother of a friend of mine goes, 'They're shooting at us — run inside!'"
Another witness, John Tulloch, told the newspaper that he and his brother had just got out of their car when he heard somewhere between 20 and 30 gunshots.
"We just ran," he said.
Kerri Lahey told the CBC she was eating dinner with her boyfriend at a restaurant when he saw the gunman enter through a side door and shoot a woman.
Mayor John Tory urged residents to remain calm, calling the incident a "cowardly act of violence."
"I'm angry when these kinds of things happen in the city — a lot of people will be angry," he said.
He added that "there are too many people carrying around guns" and that "guns are too readily available to too many people."
Tory said the city is still reeling after 10 people were killed and 15 injured when a van struck pedestrians at a busy intersection in April. The driver was charged with 10 counts of first-degree murder and 16 counts of attempted murder.
"It is almost inconceivable these things can happen," the mayor said. "We were so used to living in a city where these things didn't happen."
Canadian Prime Minister Justin Trudeau has expressed his condolences on Twitter, saying: "The people of Toronto are strong, resilient and brave — and we'll be there to support you through this difficult time."