MOSCOW, Russia — A fiery helicopter crash at airshow left one pilot dead and another injured in the Russian region of Ryazan on Sunday.
During aerobatics at the event some 124 miles south-east of Moscow, an Mi-28 helicopter went into a flat spin before crashing. Reuters footage showed a figure emerging from the wreckage after it burst into flame.
"The crashed helicopter belongs to Berkut aerobatic team. The MI-28 attack helicopter's control system failed during training," head of the Russian Air Forces, Colonel General Viktor Bondarev said. "It's alarm system immediately sounded a warning. The pilots did their best to guarantee a safe flight."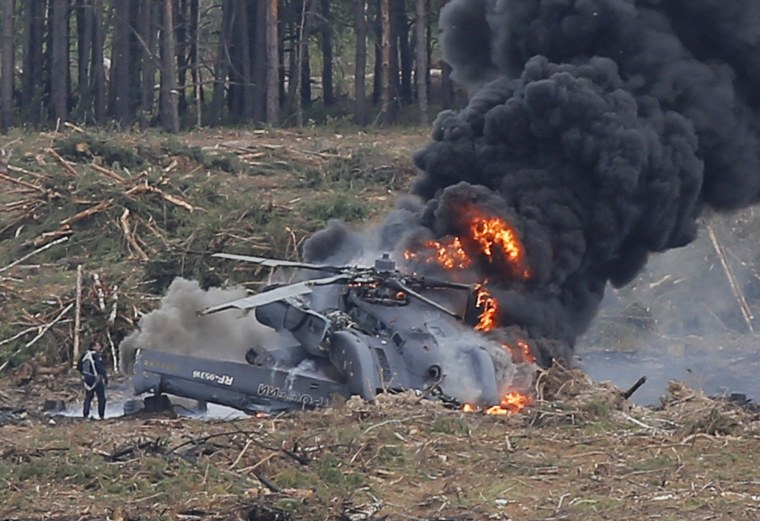 According to witnesses, a propeller on the helicopter's tail failed after finishing a stunt.
"The commander has died, the second pilot is alive. According to the second pilot, equipment failure caused the accident," Bondarev, was quoted as saying by RIA news agency.
"It's a pity that one pilot died in the crash, but the other pilot has survived. The primary cause of this accident was a hydraulic system failure," Bondarev said. "The MI-28 attack helicopter is widely used. An investigation commission will look into the crash."
The aerobatics show was a part of the International Army Games, competitions involving troops from Russia and several other nations that began on Saturday.
The planes performed dogfights, bomb dropping, and parachuting. Most planes at the show are still in active military service.
The air show was suspended after the accident.