Baseball's mother tongue is getting a rushed tryout in the only place on Earth where America's pastime is being played.
Previous play-by-play experience is an appreciated — but far from required — skill set to get behind the mic at professional baseball games in Taiwan as broadcasters scramble for English speakers to describe hits, runs and errors to a worldwide web of sports-starved viewers.
The coronavirus pandemic has prompted Major League Baseball and Japan's Nippon Professional Baseball League to shutter for the foreseeable future, and South Korea's league is still two weeks from opening, leaving Taiwan's Chinese Professional Baseball League as the only game in town.
Full coverage of the coronavirus outbreak
Eleven Sports Network, which holds broadcast rights to home games of two of the CPBL's four teams, streamed five of the empty-stadium games in English last week, drawing 5 million viewers, the company said.
The audience was enough for Eleven to launch harried tryouts to find the next Bob Uecker or Vin Scully to expand its coverage. The network's tryout pool includes 20-something natives who grew up watching baseball on the island and studied English abroad.
"We are preparing to do it for the long term, so we're looking for more talent to join," Eleven Sports General Manager Simone Kang told NBC News on Wednesday.
"We have many candidates. We have young people. The younger generation in Taiwan speaks good English here, and some of them studied abroad in America or in Australia. So they can speak good English, and we have those people who very interested, very crazy about baseball."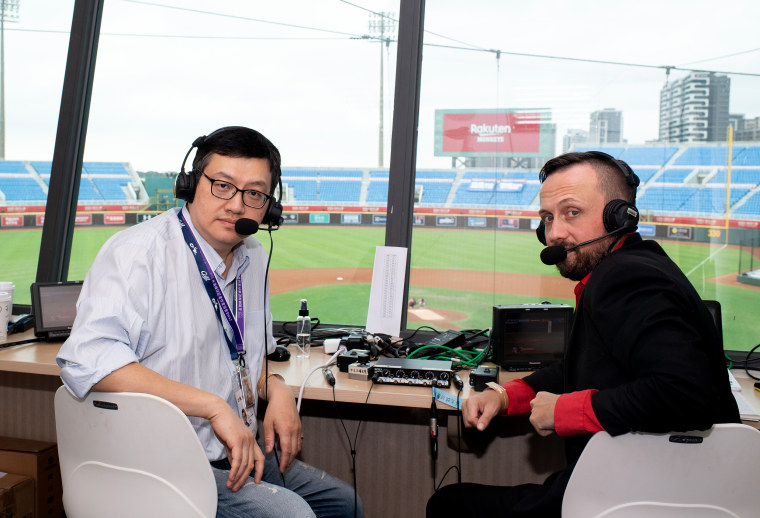 Kang said she'll hire at least two new pairs of English-speaking broadcasters in coming days to augment the pairing of Richard Wang, 48, and Wayne McNeil, 40.
The five English-language games last week were done by Wang and McNeil, who likely rank as the self-governing island's most qualified English-language baseball broadcasters.
In non-coronavirus times, Wang does TV commentary on MLB games in Mandarin for the Taiwan audience. McNeil is a Canadian expatriate who works as a research analyst for a publishing company in Taiwan, and he does baseball play-by-play as a hobby.
The English broadcasts are a point of national pride, Wang said, as the island has received worldwide praise for its early, aggressive action against the coronavirus.
Download the NBC News app for full coverage and alerts about the coronavirus outbreak
"This is a good opportunity to introduce Taiwanese baseball to the world. I just realized, however, we're not just showcasing our baseball to the world — we're showcasing Taiwan and the achievement in pandemic prevention," said Wang, a native of Taiwan who spent his college and early adult years in Boston, learning English through the Red Sox radio broadcasts of Joe Castiglione.
"Being able to tell the world that we did a good job on the air, through the platform of our baseball broadcasts, I really feel proud."
Eleven holds TV rights to the Rakuten Monkeys, and Kang said the network is committed to do English broadcasts of all Monkeys home games through the rest of the season.
Wang said he and McNeil have been contracted to call a streamed English broadcast of this weekend's series between the Fubon Guardians and the visiting Chinatrust Brothers on Momo TV.
So when another yet-to-be-announced pair of English speakers call Friday night's game between the Monkeys and the Uni-President Lions on Eleven, it'll mark the first time that all games in a CPBL day will be available in English.
Both games start at 6:35 a.m. ET.