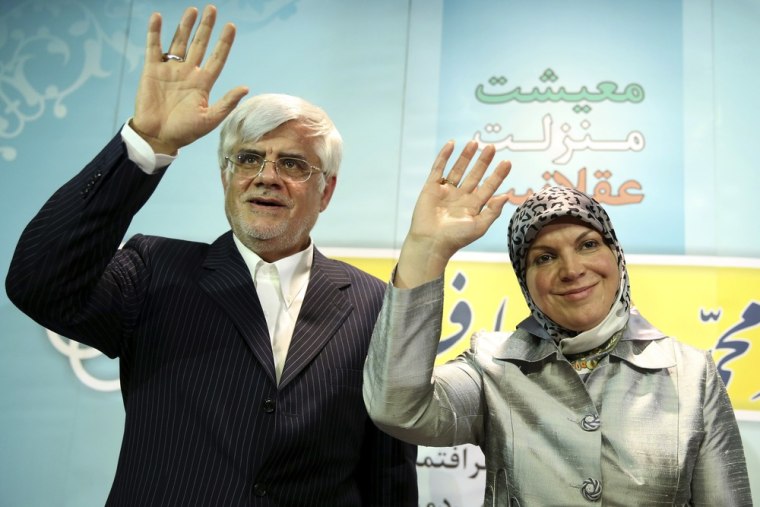 TEHRAN -- The only reformist candidate battling to replace Mahmoud Ahmadinejad as Iran's leader dropped out of the race Tuesday.
Mohammad Reza Aref did not endorse any of his rivals as he withdrew ahead of Friday's presidential election.
The mild-mannered Aref is a former vice-president who was educated at Stanford University. He had taken the unusual step of attending campaign rallies with his wife, who appeared dressed in a headscarf as opposed to the traditional all-enveloping chador.
During last Wednesday's televised debate, Aref spoke passionately about freedoms, according to The Associated Press.
His departure from the race leaves six hopefuls – including five hardliners and one centrist: Hassan Rouhani. 
Aref's withdrawal is likely to help Rouhani, who has been performing well according to some local media reports and judging from the substantial crowds at his campaign rallies. 
The Associated Press noted that Aref and Rouhani had been "seen as possible middle-ground forces who could encourage the Islamic leadership to look for an elusive compromise: Seeking ways to ease the West's nuclear concerns without making key concessions such as uranium enrichment."
Rouhani, who is a former nuclear negotiator, has won the official backing of reformist former President Mohammad Khatami's advisory council.
And while Rouhani is not a reformist, he is considered a centrist with good relationships on both sides of the field.
On Monday, Gholam Haddad-Adel, who is related by marriage to Iranian Supreme Leader Ayatollah Ali Khamenei, dropped out of the race. Haddad-Adel asked his followers to vote for his hardline conservative colleagues but did not endorse any one candidate.  
Haddad-Adel belonged to a coalition of conservative "Principlist" candidates that included Tehran Mayor Mohammad Baqer Qalibaf and former foreign minister Ali Akbar Velayati, who is currently the supreme leader's adviser on international affairs.
Their initial strategy was to unite behind one candidate so Haddad-Adel's withdrawal is not seen as highly significant.
Qalibaf is a conservative and strong backer of the clerical elite who has been accused of heavy-handed tactics in the violent aftermath of disputed elections in 2009. He has embarked on a series of ambitious civic projects that have added to his popularity. Qalibaf plays up that he has made Tehran a greener city while expanding its network of roads and highways.
Saeed Jalili, Iran's deeply conservative chief nuclear negotiator, also remains in the race.
Wednesday marks the final day of campaigning before Iranians go the ballot boxes on Friday. If the results are too close to call a clear winner, that will trigger a runoff election between the two candidates with the largest number of votes. The runoff would happen within ten days, according to the Guardian Council's election rules. 
Under the constitution, the president is the second-most-important authority after the supreme leader. The president – currently Ahmadinejad – is elected for a four-year term by popular vote.
The presidential vote will be Iran's first since 2009 when the excitement generated by large reformist election rallies turned to anger and protests when incumbent Ahmadinejad was declared winner.
The 12-man Guardian Council last month barred all but eight of the 686 people who registered as candidates, including ex-president Akbar Hashemi Rafsanjani.
Reuters and The Associated Press contributed to this report.