BEIJING – The hazardous levels of air pollution blanketing Beijing since last week intensified on Tuesday, triggering a smog alert to be raised from "yellow" to "orange."
China's capital uses a four-tiered pollution alert system with "orange" being its second-highest level.
Schools across the city were ordered to suspend outside classes and sports activities on Tuesday. According to local media, more than 140 factories in and around Beijing were forced to temporarily suspend production.
Should the pollution worsen and the "red" smog alert warning be necessary, the local government would be authorized to take more serious steps including shutting schools and ordering the city's vast government fleet of cars off the roads.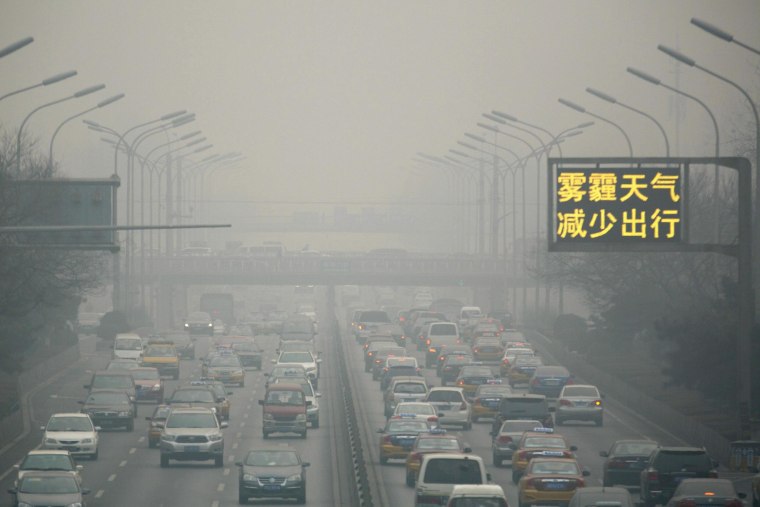 The heavy fog has brought a brown, smoky pall across northern China that can cause a host of respiratory problems.
The U.S. Embassy, which monitors PM 2.5 – air particulate smaller than 2.5 microns deemed by many as the more dangerous pollutant to human health – showed readings of 500 micrograms per cubic meter late Tuesday afternoon. The World Health Organization recommends human exposure to PM 2.5 no higher than 25 micrograms per cubic meter.
State media reported that China's top weather observatory was warning that relief from the heavy smog would not come until Thursday at the earliest, when strong winds were predicted to push it out of northern China.
Reports from Beijing hospitals suggest the number of patients coming in with respiratory and pulmonary issues had spiked since the smog settled over the capital on Thursday.
Face masks, which were once a rarity on Beijing's streets, have also become increasingly common.
Meanwhile, an interview on Chinese state television in which a Chinese admiral spoke of the military advantages of air pollution by declaring "laser weapons are most afraid of smog" was roundly ridiculed online.
Even an impromptu visit by Chinese President Xi Jinping to a hip shopping street in Beijing, brought laughs as many noted that he was not wearing an air pollution mask like other city residents.
"Breathing together, sharing the same fate!" declared one popular post that was reposted over and over on China's Twitter-like service, Weibo.