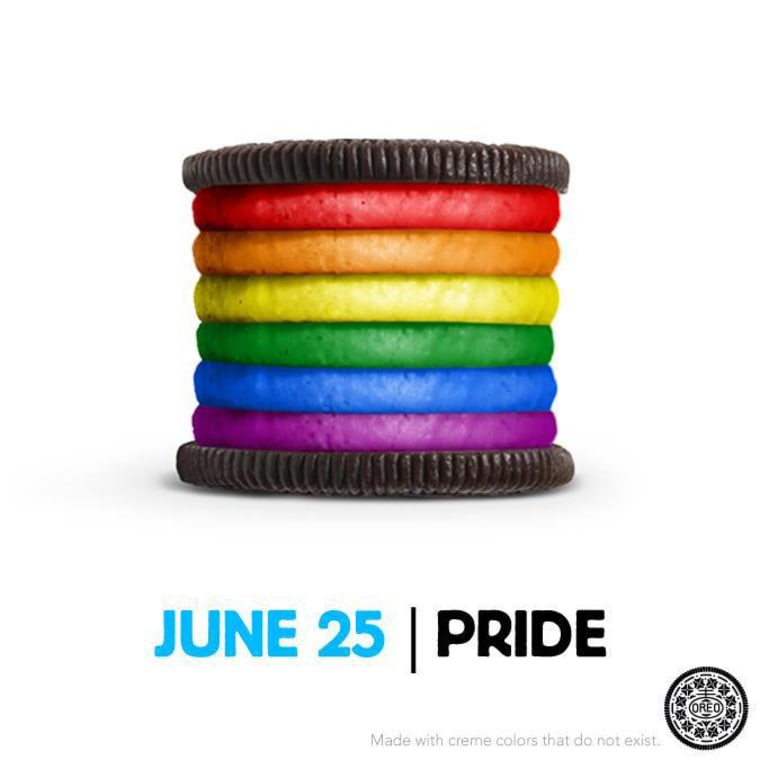 Nabisco and its parent company, Kraft, yesterday on Facebook took a stance in support of LGBT Pride Month with a photo of rainbow-colored filling inside an Oreo cookie.
The photo, along with the message "Proudly support love!" has received over 20,000 comments in under 24 hours, ranging from "I love this so much!" to "Looks like I won't be eating Oreos anymore." Oreo also tweeted the photo, which has been retweeted over a thousand times.
One of Oreo's slogans is "milk's favorite cookie," and has been considered a snack-time favorite for decades. It doesn't look like Oreo is planning to produce and sell these colorful cookies, but if it did, the rainbow cookie would find good company among Oreo's dozens of products. (The cookie sandwich celebrated its 100th birthday this past March with a limited-edition Birthday Cake Oreo.)
Oreo has traditionally been seen as a family-friendly brand, and I think it's great that they're making sure people know they support all families. One can only imagine how the One Million Moms will react.
Update, 8:15pm: It would seem the boycotts have already begun. If you'd like to join the Boycott Oreo cause, go 'like' their Facebook page which, at the time of my writing, has a grand total of one 'like.' As this graphic points out, boycotting Oreo means you're not supporting Kraft, which means you're also going to have to start boycotting a lot more than just a cookie.
Note: See below Melissa's Vault looking back on how far coverage of LGBT Americans has come, and her discussion from this Sunday about Pride Week (and Month) and after the jump.