ISLAMABAD — The compound where Osama bin Laden was hiding when Navy SEALs found and killed him five years ago looks set to become a children's playground, according to a local official.
Or maybe a graveyard.
The site in Abbottabad, Pakistan, where the al Qaeda founder and 9/11 mastermind spent his last years has now become the center of a turf war.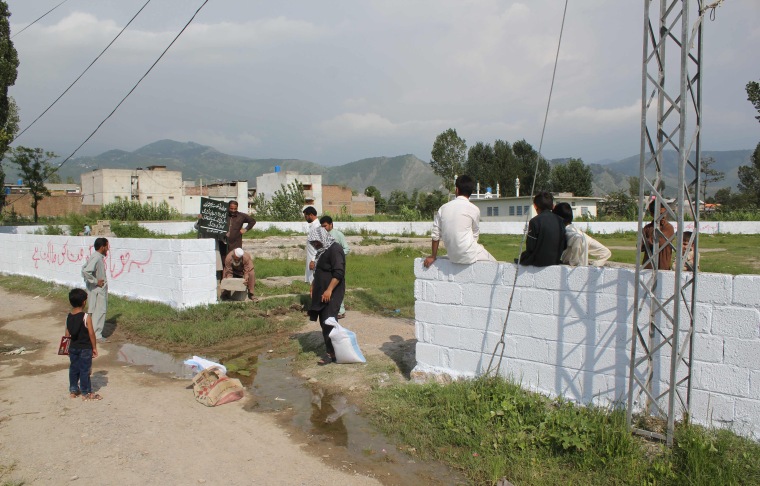 On one side sits the province of Khyber Pakhtunkhwa — which is trying to get the playground built — and on the other the local administration.
"When OBL was killed, nobody went near the place and nobody claimed its ownership," Omar Farooq, deputy director of the local Cantonment Administration in Rawalpindi, said on Tuesday.
"According to the law, we took charge. And were then instructed to demolish the property," he told NBC News.
The Cantonment took possession of the 37,996-square-foot site after bin Laden was killed and his family captured on May 2, 2011. The house was razed, and now the plot sits largely unused — although it occasionally becomes a makeshift cricket pitch or a kite-flying field for local children.
Nothing happened for years, according to Farooq, who said the former compound "remained a flat piece of land, with no traces of bin Laden's house."
Related: Bin Laden Documents Detail His Daily Life
So Cantonment authorities decided to build a graveyard because there is a shortage of them in the area. But provincial officials want a children's playground, and say they are the rightful authority, according to The Business Recorder, a local newspaper.
Senior officials from the Abbottabad district government could not be reached for comment.
Until the property's fate is decided it will remain a barren piece of land and occasional tourist attraction.
"Listen, ultimately, both ideas are meant to service the public," said Farooq. "A playground or a graveyard — both are public amenities."