BRYANSK, Russia -- Kristi and Rich England of Marshall, Minn., shook with nerves and joy on their fourth and last trip to an orphanage in Bryansk, in rural Russia.  
They were finally taking Sonia, a partially blind and hyperactive 3-year-old, home with them. The tearful Feb. 12 meeting, punctuated by Sonia's screams of "mama" and "dada," was all the more emotional because the Englands knew that they were the last lucky couple to leave Russia with an adopted child. 
"So many other families have seen their children and have loved their children and can't bring them home," said Kristi England, 34, a family doctor. "It's so unfair in so many ways."
The process wasn't easy – the Englands endured multiple background checks and spent at least $50,000 to ensure that Sonia, now called Sophia, could go home with them.
But the ban signed into law on Dec. 28 barring all U.S. adoptions – which numbered more than 60,000 over the past two decades – has marooned hundreds of families in the middle of adopting, and stranded thousands of children in orphanages throughout Russia.  
"We should do all we can so that orphaned children find a family in our country, in Russia," President Vladimir Putin said in defense of the ban.
Fueling the outrage in Russia over the fate of children adopted by Americans, Russian media reported earlier this week that Alexander Abnosov, 18, showed up in the Volga River port town of Cheboksary saying his adoptive family had mistreated him. He had left Russia five years earlier, having been adopted by a family outside Philadelphia, but said he fled after suffering from verbal abuse by his adoptive mother.  
"She would make any small problem big and always try to find a reason to shout at you," he told Russia's state-owned Channel 1.
While UNICEF estimates there are about 740,000 children not in parental custody in Russia, only about 18,000 Russians are on the waiting list to adopt. 
But while Putin denies any direct connection, Kremlin-watchers say the ban is really about geopolitics and not about protecting kids.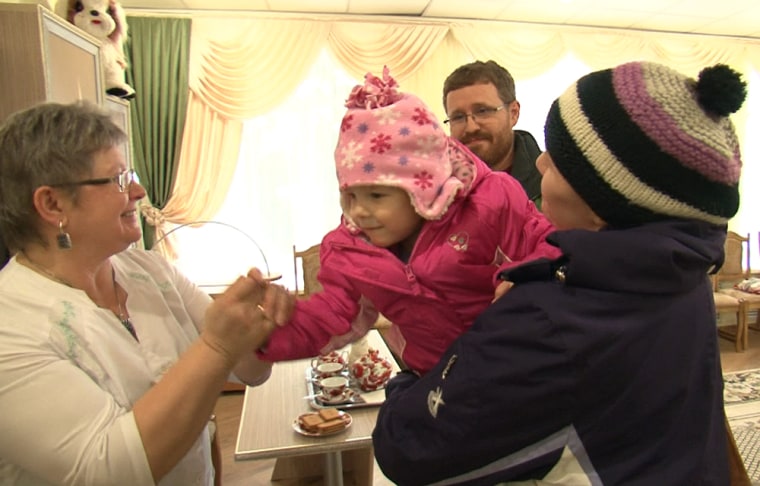 They say it was retaliation by Moscow for an American law banning any Russian human rights violators from U.S. soil, enacted after the suspicious death in prison of Sergey Magnitsky, a Russian lawyer working for Heritage Fund, an American private equity firm. 
Russian media didn't hesitate to bolster the official line.  
Despite the negative reports, child psychologist Valentina Rakova, who has worked in the Bryansk orphanage for 30 years, says the ban is terrible for children. 
"Here in Russia we have many examples of bad parents -- even worse than these American cases -- where kids are just tossed out," she said as she coiffed Sonia, who requires special medical attention.
"A child like Sonia, no Russian would accept her," Rakova said. "Before the ban, orphans were offered to Russian families but no one took them in." 
Rakova's experience confirms the U.N.'s statistics. As far as she has seen, Americans are far more likely to adopt children who are ill or suffer from a disability.
Becky Preece, a housewife from Nampa, Idaho, is one such American.  
She was finally able to take home 4-year-old Gabe, who has Down syndrome, in February, after years of filling out paperwork and a court battle.  
Preece, who like the Englands beat the ban by days but was then delayed by red tape, said she saw a complete disconnect between the horrors of Russia's adoption ban and the kindness and hospitality of the Russians themselves.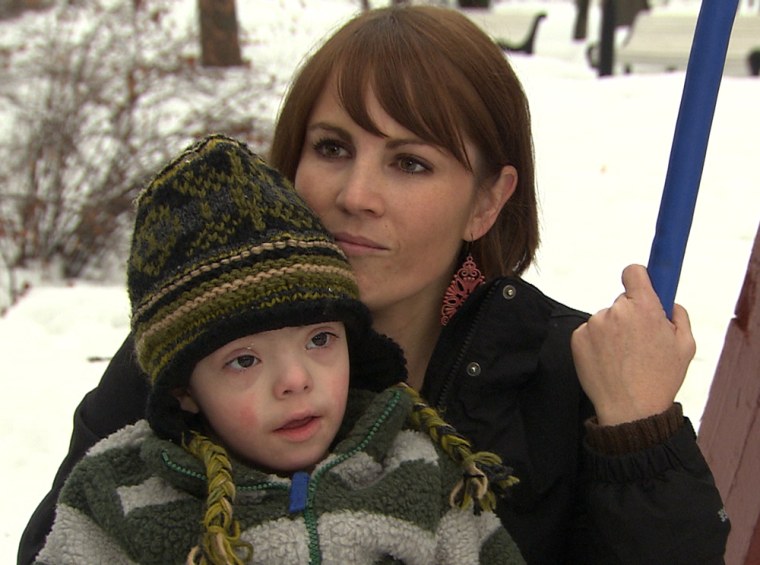 "It's not a matter of the people," she said while walking with the little boy in the thick Moscow snow.
"It's politically charged and it's something that is hard for us to understand because it's so different from the experience that we've had here."
Preece said she was excited to get Gabe into school back home, and watch him bond with his new brother who also has Down syndrome. 
"They need the infrastructure, they need the kind of support that we get at home for our children," she said. 
But for the hundreds of American families who missed the cut and are now unable to bring their adoptive children home, the future could mean months -- even years -- of waiting and praying that the two superpower rivals find common ground before more of society's most vulnerable pay the price.
The Associated Press contributed to this report.
Jim Maceda is a London-based correspondent who has covered the Soviet Union and Russia since the 1980s. 
Related:
Boy's Christmas wish: Adoption of little brother caught in US-Russia spat