A Pakistani model who became a sensation over racy social media selfies was likely strangled by her brother, police said Saturday, in what is being described as an honor killing.
Qandeel Baloch, who is in her late 20s or early 30s, was found dead in her home near the ancient city of Multan on Friday night, local police chief Azhar Akram told reporters.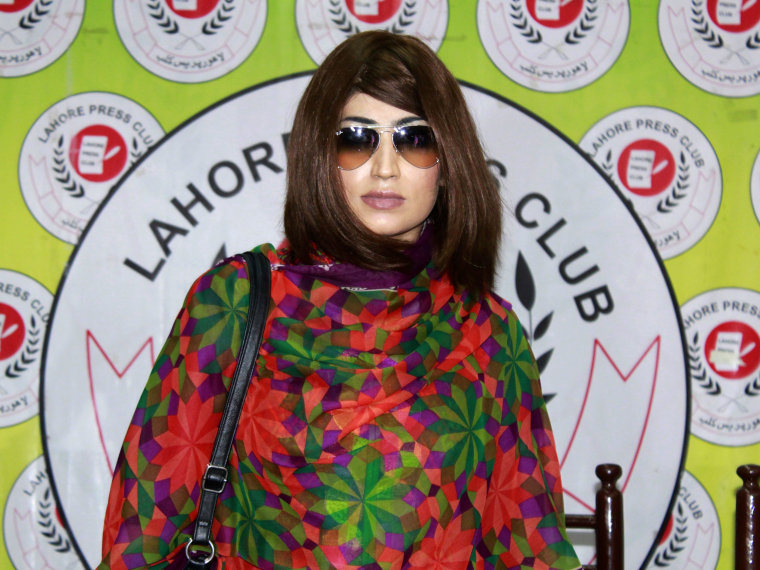 He said her brother, who has gone missing, is a suspect.
"An autopsy is happening," Akram added, "but we suspect strangulation."
Her parents also confirmed to authorities that one of her six brothers was behind her death, police spokeswoman Nabila Ghazanfar told The Associated Press.
Baloch was known for her popular and provocative selfie videos, in which she spoke openly about her sexuality — a taboo subject in the conservative Islamic Republic of Pakistan. She promised to strip for the Pakistan cricket team captain if he won a match against India.
She also bared her cleavage in selfies with a prominent Muslim cleric while sharing a couch with him. The uproar over those images caused a national media ruckus, prompting her to ask the Interior Ministry for her own security, which was denied.
On Twitter in recent days, she also wrote about not being ashamed of who she is and that she wanted to inspire other women to stand up for themselves.
The case is being widely viewed as an honor killing, which occurs when someone is murdered by their own family for doing something that is considered immoral and disgraceful.
Pakistani activist and Oscar-winning documentary maker Sharmeen Obaid Chinoy, who has been campaigning for anti-honor killing legislation in Pakistan, asked Saturday on Twitter "how many women have to die" before effective laws are passed.
Chinoy's documentary, "A Girl in the River: The Price of Forgiveness," won an Academy Award earlier this year for putting a spotlight on the issue.
A leader of the liberal Pakistan People's Party, Sharmila Faruqi, also condemned the killing, tweeting that Baloch has now been "silenced 4 ever."