School children were among 20 people killed when flash floods struck an area near the Dead Sea in Jordan, the country's state news agency reported Friday.
Another 35 people were injured, according to Petra. An unknown number of people are still missing, hospital sources said.
Police chief Brig. Gen. Farid al Sharaa told state television that many of the victims had been on a school excursion from Amman when heavy rains lashed the area on Thursday.
Dozens were saved from the water in a major operation involving helicopters and troops. Early Friday, rescuers were still search the area for survivors.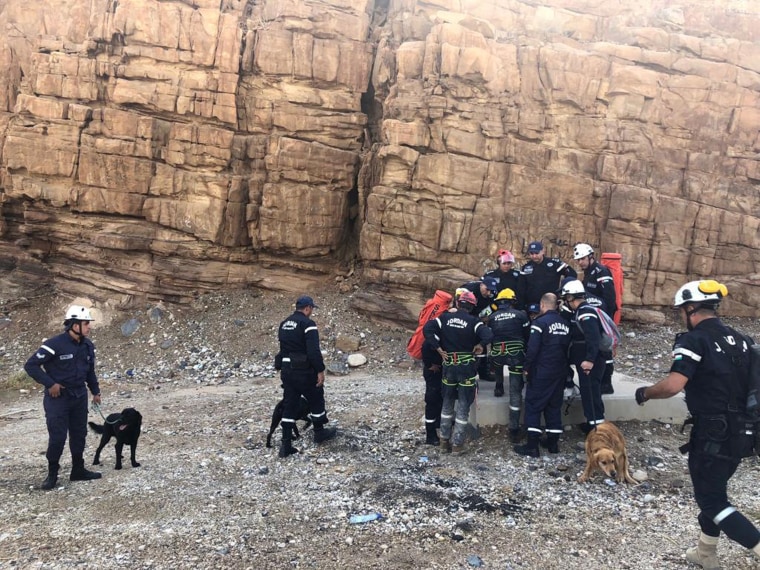 Families of the missing also scoured the rugged area after search teams suspended operations overnight for a few hours, a witness told Reuters.
The body of a 12-year-old girl was found early Friday, said the director general of the Civil Defense, Mustafa al-Basaiah.
Israel's military said it dispatched a rescue team at the request of the Jordanian government.
Jordan has declared three days of mourning for the victims.
King Abdullah II canceled a planned working visit to Bahrain, initially scheduled for Friday, where he was to have been the keynote speaker at a security conference. In a message on his Twitter account, the monarch said that "the pain of each father, mother and family is my pain."
The low-lying Dead Sea area, part of the Jordan Valley, is prone to flash flooding when rain water rushes down from nearby hills. In April, 10 Israeli students were killed in a flood while hiking in the area.