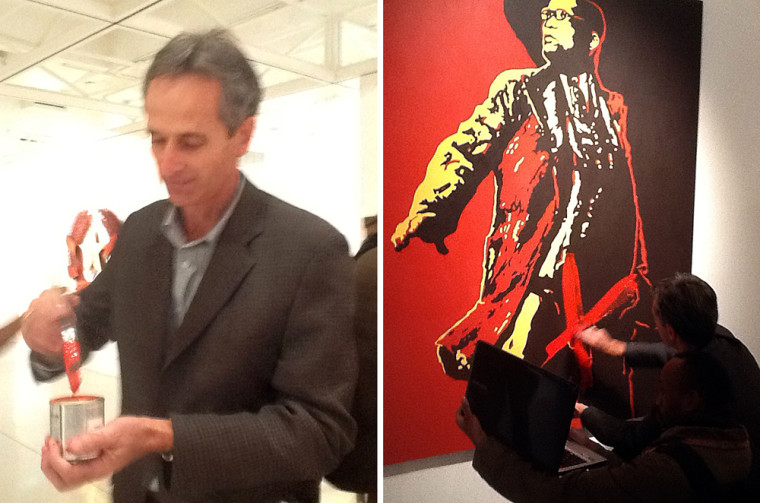 Two men who vandalized a controversial painting of South African President Jacob Zuma with his genitals exposed were due to appear in court Wednesday.
Television footage Tuesday showed a white middle-aged man in a suit walking up to the portrait, called The Spear, at a Johannesburg gallery and painting a red cross on the president's face and private parts, Reuters reported. A younger black man then  smeared black paint over the picture while the first man was being taken into custody by security guards.
"I'm doing this because the painting is disrespectful to President Zuma," one of the men told BBC News.
A BBC correspondent said he saw one of the vandals being head-butted as he was detained at the Goodman Gallery in Johannesburg.
The picture of Zuma is a facsimile of a famous poster of communist revolutionary Vladimir Lenin. In the red, black and yellow painting, the president is shown striking Lenin's heroic stance, but with his penis hanging out of his trousers.
Racist?
Zuma's African National Congress party had already launched a legal bid to try to force the gallery to remove the picture, which it described as crude and racist.
Minutes before the vandals attacked, ANC Secretary General Gwede Mantashe told Reuters people had a right to criticize the government, but there were limits.
Farm worker found guilty over South African white supremacist's murder
When you had an artist depicting the president's genitals, he added, "you are not raising a discussion, you are insulting people."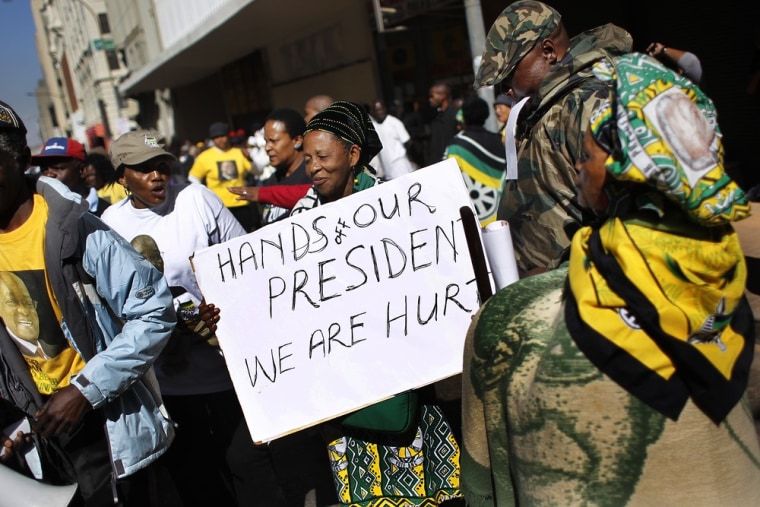 The artist, Brett Murray, is well-known in South Africa for his work criticizing the white-minority apartheid government that ended in 1994.
The painting was taken down from display after the attack, prompting the Zimbabwe Mail newspaper to file a report headlined "Presidency penis goes into hiding."
'Paucity of morals'
The Goodman Gallery said Murray's exhibition, called Hail to the Thief II, "continues his acerbic attacks on abuses of power, corruption and political dumbness."
"Murray's bronzes, etchings, paintings and silk-screens form part of a vitriolic and succinct censure of bad governance and are his attempts to humorously expose the paucity of morals and greed within the ruling elite," the gallery said on its website, which was still showing an unvandalized image of the painting.
Zuma has been married six times and fathered 21 children.
Anton Harber, chairman of South Africa's Freedom of Expression Institute last week called the ANC's criticism of the picture "silly" and defended artists' right to pose difficult, uncomfortable questions with their work.
Zuma sworn in as South Africa's president
The arrested men, Barend la Grange, and Lowie Mabokela were due to appear in court Wednesday, The City Press newspaper reported, along with a third man arrested outside the gallery after allegedly spraying paint on a wall.
Reuters contributed to this report.
More world news from msnbc.com and NBC News:
Follow us on Twitter: @msnbc_world