ISLAMABAD - Pakistan's military said it had bombed the hideout of a militant leader Sunday one day after the Taliban declared a one-month ceasefire to pursue stalled peace talks.
The target of the attack, Mullah Tamanchey, was behind a deadly assault against a convoy carrying a polio vaccination team on Saturday in which 12 people were killed, military officials told Reuters.
"The government is not going to tolerate any act of terror and any act will be replied to," a Pakistani security official said.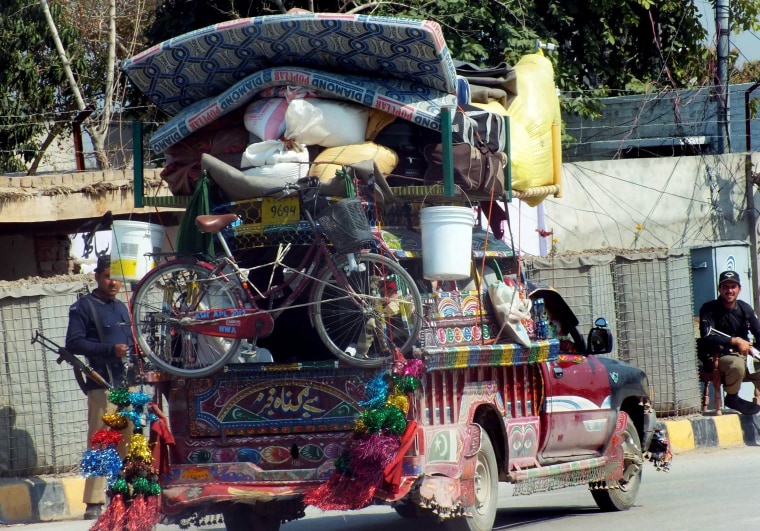 Thousands of residents have fled the tribal region of North Waziristan amid reports that Pakistan is about to launch a long-awaited ground offensive in a bid to crush the Taliban's militant insurgents.
Sunday's military strike came hours after Pakistan's government welcomed the announcement of a one-month Taliban ceasefire, after years of violence and bloodshed.
"The government welcomes the statement of the Taliban to agree a ceasefire," defense minister Rana Tanveer Hussain said in a statement early Sunday, adding that the government's intentions were "still sincere."
Pakistan's Taliban – the outlawed Tehrik-e-Taliban Pakistan (TTP), headed by Maulana Fazlullah – made its announcement after three days of meetings among its shura, or ruling council.
"Now the ball is in government's court. It would have to prove its seriousness and sincerity in peace talks," a Taliban spokesman told NBC News.
Reuters contributed to this report. Alastair Jamieson reported from London.