A court in Pakistan has withdrawn charges of attempted murder against a 9-month-old boy, it was reported Saturday, the latest development in a case that provoked widespread ridicule.
The infant, Musa Khan, appeared in court in the city of Lahore on Saturday, sitting on his grandfather's lap and drinking from a bottle of milk, television reports showed.
He was charged along with his family last week after a mob protesting gas cuts and price increases stoned police and gas company workers trying to collect overdue bills.
The baby was apparently charged because an assistant sub-inspector complained in a crime report that Musa's whole family had beaten him up and injured his head.
The baby's grandfather, Muhammad Yasin, and his three sons still face the charges, but the young boy will not, officials told the family.
"The family decided to seek mercy from the law and produced this baby in front of the court," defense lawyer Irfan Sadiq Tarar told NBC News. "That's what exposed and embarrassed the police. We had to get bail for this baby to show how corrupt the police is."
The BBC reported that the boy's grandfather asked journalists covering the case: "He doesn't even know how to pick up his milk bottle properly. How can he stone the police?"
Pictures taken at an earlier court hearing of Musa crying as he was being fingerprinted prompted officials to call for an inquiry.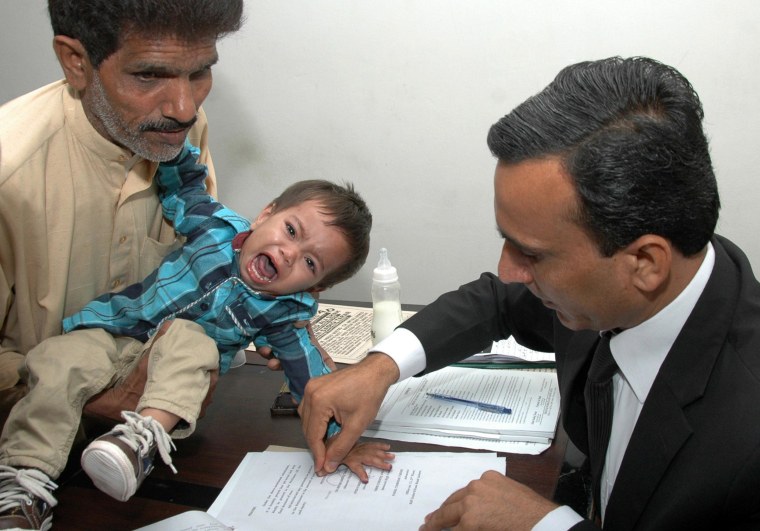 Tarar said the charges against the family are "strong-arm tactics" by police to ultimately evict them and other poorer families and grab their land.
"The police deliberately wanted to arrest this kid," Tarar said. "They knew his age. They knew this was absurd. His house was raided several times to harass his family."
Asha'ur Rahman, editor of Pakistani newspaper Dawn, told NBC News that the country's legal system must be evaluated.
"This is indicative of the Pakistan system, which is black and white, where there is no space for the human condition, for the citizen, only the institution," Rahman said.