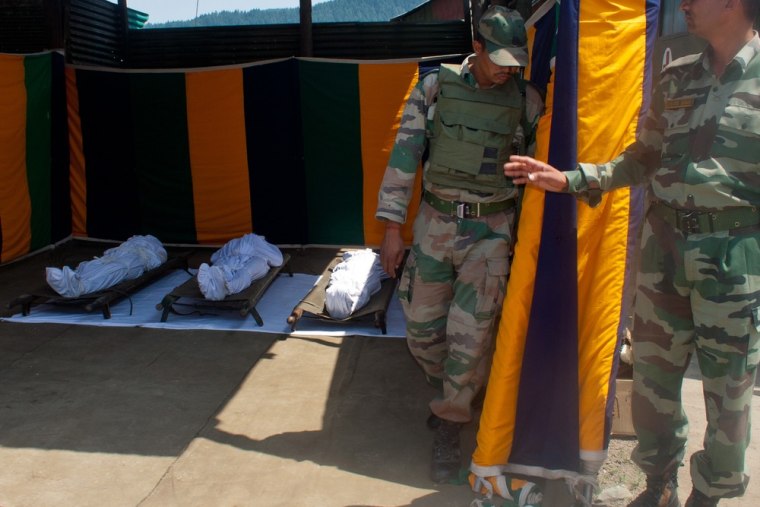 A Pakistani military spokesman said his country "categorically denies" allegations by the Indian military that Pakistani troops engaged and killed Indian personnel across the Line of Control, in the disputed territory of Kashmir.
"No Pakistani troops carried out any firing across the LoC [Line of Control] on Indian positions," Brigadier Mohammad Atique, spokesman for the Pakistani military, told NBC News.
Indian and international media Friday carried statements by the Indian military that Pakistani troops had breached a long-standing ceasefire on the Line of Control - the de facto border that divides the former Himalayan kingdom of Kashmir between the two nuclear-armed South Asian rivals. According to the reports, at least one Indian officer was killed in the "unprovoked" cross-border firing that lasted several minutes.
"Junior Commanding Officer Bachan Singh was killed when Pakistani snipers fired at an Indian post near Mandi in the Poonch sector," an Indian army official told the BBC.
India and Pakistan have often exchanged small-arms and even artillery fire across what is known as the world's most nuclearized border.
Last January, both sides accused each other of not just breaching the ceasefire, but also crossing over into each other's area of control. That hostile exchange escalated into a bitter diplomatic stand-off that took weeks to simmer down.
On Thursday, India announced it was sending a new envoy to Pakistan, the first high-profile diplomatic shuffle in Islamabad since the recently elected prime minister, Nawaz Sharif, was sworn in on Wednesday.
Sharif, who heads a conservative but pro-business political party, gave a controversial statement before he was elected that if he became prime minister, he would investigate the Pakistani military's 1999 incursion into Kargil, a strategic location in Indian-administered Kashmir.
Kargil became an extended military engagement between New Delhi and Islamabad that only stopped when former U.S. President Bill Clinton asked the Pakistanis to draw down.
India and Pakistan have fought four wars, three of them over the disputed region of Kashmir.