SEHWAN, Pakistan — Pakistani forces killed and arrested dozens of suspects in raids overnight into Friday, a day after a suicide bombing killed 80 worshipers at a Sufi shrine.
The terrorist attack — Pakistan's deadliest in years — raised questions about the authorities' ability to rein in militant groups despite military offensives against them.
The raids targeted militant hideouts. Shootouts left at least 39 suspects dead across Pakistan, according to three security officials who spoke to The Associated Press on condition of anonymity.
In one raid, the troops killed 11 people at a militant hideout in the port city of Karachi. In another, paramilitary Rangers came under fire as they returned from Sehwan, a town in southern Sindh province where the bombing took place, and killed seven of the attackers.
Other raids took place in northwestern Pakistan and the eastern province of Punjab. Officials said a total of 47 suspects were arrested.
In Thursday's attack, the suicide bomber walked into the Lal Shahbaz Qalandar shrine in Sehwan, and detonated his explosives, killing 80 people. At least 20 women and nine children were among the dead. Scores of people were wounded.
"We were there for the love of our saint, for the worship of Allah," a wailing woman told the Dawn News television channel outside the shrine. "Who would hurt us when we were there for devotion?"
The white marble floor was still marked by blood on Friday, and a pile of abandoned shoes and slippers was heaped in the courtyard, many of them belonging to victims.
ISIS claimed responsibility for the attack, saying it had targeted a "Shiite gathering." The Sunni extremist group views Shiites as apostates and has targeted Pakistan's Shiite minority in the past. It views Sufi shrines like the one targeted Thursday as a form of idolatry.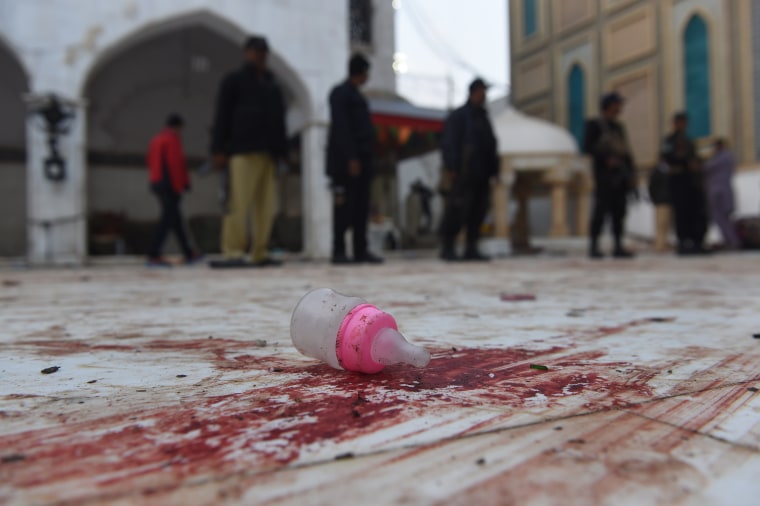 Prime Minister Nawaz Sharif vowed that security forces would track down the perpetrators of the attack, according to Pakistani state TV.
"Each drop of the nation's blood shall be avenged, and avenged immediately," Pakistan's army chief, Gen. Qamar Javed Bajwa, said in a statement. "No more restraint for anyone."
A wave of bombings over five days has hit all four of Pakistan's provinces and two major cities, killing nearly 100 people and shaking a nascent sense that the worst of the country's militant violence may be in the past.
Most of the other attacks have been claimed by factions of the Pakistani Taliban, which is waging its own fight against the Pakistani government but whose ranks have also cooperated with and sometimes defected to ISIS.
Thursday's attack was the deadliest in Pakistan following the Dec. 16, 2014 assault on an army-run school in Peshawar that killed 154 people, mostly schoolchildren.