Pakistan's military claimed Monday that it had fired its first submarine-launched cruise missile.
The announcement is likely to raise tensions between Pakistan's military and arch-rival India's million-man army.
The military said Babur-3 — named after a sixteenth century Islamic Mughal warrior who invaded and conquered India — with a range of 450 kilometers, was tested from an undisclosed location in the Indian Ocean.
A video release confirmed the missile was fired from an underwater location. The military said in a statement that it was launched from a "mobile platform and hit its target with precise accuracy."
Babur-3 is a sea-based variant of Ground Launched Cruise Missile (GLCM) Babur-2, which the Pakistanis claimed was successfully tested in December 2016.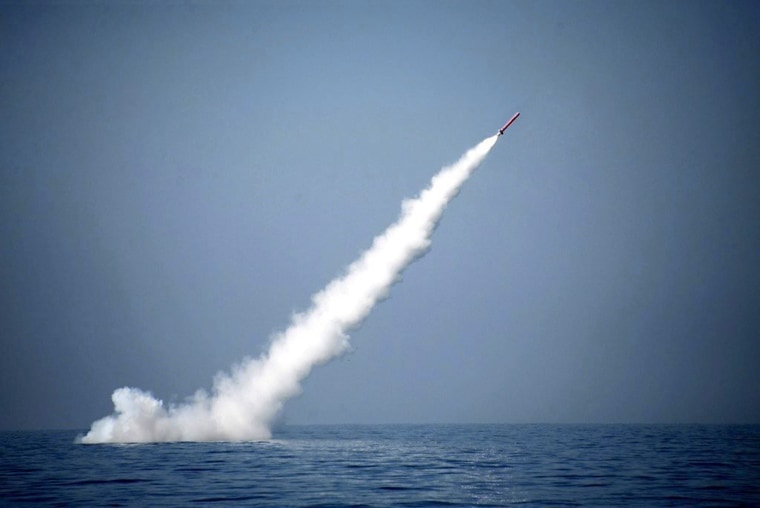 India has also been conducting its own missile tests in the past few weeks.
Fresh barbs have been exchanged between Delhi and Islamabad, since both armies recently got new army chiefs.
The two South Asian rivals, separated after a bloody partition as they gained independence from Britain in 1947, have fought wars in 1947-48, 1965, 1971 and 1999, besides countless skirmishes, mostly over the disputed territory of Jammu and Kashmir.
But with tit-for-tat nuclear missile testing, Pakistan has now attained a "credible second strike capability," according to the military, with its new submarine-launched nuclear capable missile, which the military said was a "manifestation of the strategy of measured response to nuclear strategies and postures being adopted in Pakistan's neighborhood" — a clear reference to India's own conventional and nuclear arms build-up.